Belgium - Lixhe
Since 1979 the Belgium utility company EDF Luminus has operated the HPP Lixhe on the river Meuse with four single regulated Straflo-turbines.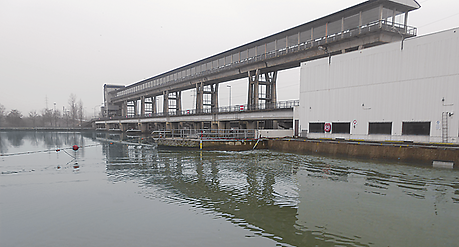 In order to use extreme part load operating ranges, more effective and to hold a constant head water level even at low discharges in future, two of four Strafloturbines will be replaced by double-regulated bulb turbines. A challenge is the fact, that the new turbines have to be placed between the existing stop logs so that the remaining two Strafloturbines can be operated without interruption during the erection phase of the new turbines.

Two double regulated Compact bulb turbines, each with a runner diameter of 2,600 mm, meet the above requirements in an optimum way. Therefore, a consortium of ANDRITZ HYDRO Germany and ELIN Motoren GmbH (Austria) was awarded the contract for delivery of the complete electromechanical equipment in November 2012. Besides the Compact bulb turbines, the governor and their respective oil bearing units and the synchronous generators, it also includes a large electrical infrastructure as well as the disassembly of two of the existing Straflo-turbines. The disassembly works at HPP Lixhe are completed and the delivery of the main turbine components shall start by end of 2013.
Technical data

| | |
| --- | --- |
| Output | 2 x 3.41 MW |
| Head | 7.65 m |
| Speed | 176.47 rpm |
| Runner diameter | 2,600 mm |