Canada - Okikendawt
Hydro Mega and the Dokis First Nation formed the Okikendawt Limited Partnership in 2009, in order to develop, build and operate a 10 MW hydroelectric facility at the Portage Dam on the French River in Ontario (Canada).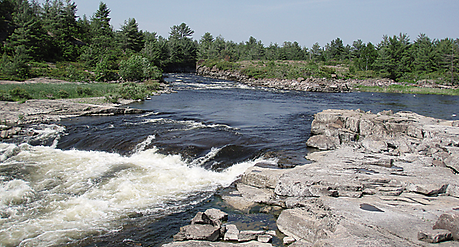 At the end of 2012, ANDRITZ HYDRO received the contract for the supply, installation and start-up of a water- to-wire equipment package featuring two double regulated ECOBulb turbines.

The Okikendawt project will have the largest, most powerful ECO- Bulb turbines delivered worldwide. The turbine will be supplied by ANDRITZ HYDRO France using stators manufactured by ANDRITZ HYDRO India.

Technical highlight will be the converter technology in order to meet the interconnection requirements of the local utility.

Site activities are scheduled to begin during the summer of 2014 with commissioning in early 2015.
| | |
| --- | --- |
| Technical data |   |
| Output: | 2 x 5,234 MW |
| Head: | 9 m |
| Speed: | 138.5 rpm |
| Runner diameter: | 3,350 mm |