Romania - Paraul Bailor
At the end of July 2013 ANDRITZ HYDRO and HYDROSILVANIA, represented by Mrs. Virginia Farkas, signed an order for the delivery, installation and commissioning of two vertical Pelton / generator units including the electrical equipment.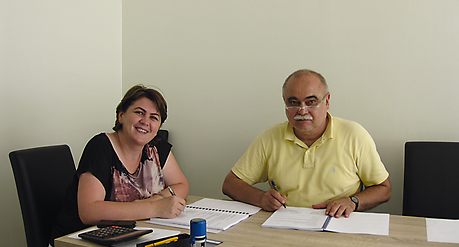 The scheme is a run-off-river power station in the country of Bistrita-Nasaud, located close to the village Anies (Romania). ANDRITZ HYDRO will deliver two six nozzle vertical Pelton turbines, air cooled generators (880 kVA & 690 V), inlet valves (DN700/PN16), hydraulic oil pressure units, the control measuring protection equipment of the turbine/generator set, AC-DC distribution system, LV-circuit breakers to the generator, 690 V bus bar system, LV-circuit breaker to the transformer, the control equipment for the intake (Tyrolean type weir) and the cabling for the supply and erection of the equipment. The commissioning of the equipment is scheduled for mid-April 2014.

| | |
| --- | --- |
| Technical data |   |
| Output: | 2 x 776 kW                   |
| Head: | 76.8 m |
| Speed: | 428.6 rpm |
| Runner diameter: | 800 mm |