Bulgaria - Kadievo
At the beginning of August 2013 ANDRITZ HYDRO was awarded by NAT 2004 Ldt. to deliver, install and put into operation the equipment for the low head run-of-river power station Kadievo.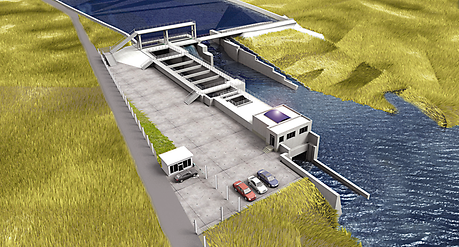 HPP Kadievo is located on the Vacha River close to the city of Plovdiv (Bulgaria).

ANDRITZ HYDRO will deliver a four-blade bevel gear bulb turbine, a low voltage synchronous generator (1,500 kVA, 400V), a hydraulic oil pressure unit, control-visualization-measuring and protection equipment of the turbine/generator set, LV-circuit breakers for the generator, a 400 V bus bar system with AC-DC distribution as well as the trash rack, an automatic hydraulic trash rack cleaning machine and a chain conveyor system for the debris.

Commissioning of the equipment is scheduled for the end of 2014.

| | |
| --- | --- |
| Technical data |   |
| Output: | 1.32 MW |
| Head: | 5.72 m |
| Speed: | 210 rpm / 750 rpm            |
| Runner diameter: | 1,950 mm |