Germany - Neuötting & Perach
The hydropower plants Neuötting and Perach are part of a cascade consisting of 13 run-of-river power stations and operated by the Austrian utility VERBUND Hydro Power AG at the Inn River located in Bavaria.
The Neuötting plant was built in 1951 and Perach in 1977.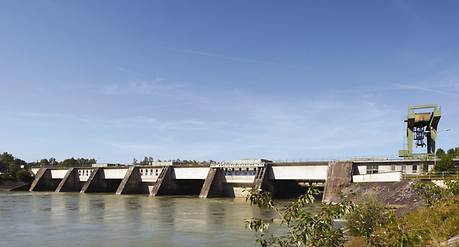 During an EU-wide bidding process, ANDRITZ HYDRO was awarded the contract for the delivery of a seamless secondary technology. By 2016 both hydropower stations will be equipped with modern system components from the NEPTUN product family. The scope of supply includes the modernization of the unit controller, the digital turbine governor including efficiency optimizing, and a complete renewal of the sensors, including an overhaul of the oil hydraulic units, as well as the delivery of seven static excitation systems (THYNE 5) for the main units and the auxiliary unit. The new control technology will continue to guarantee the unmanned, fully automated operation of the hydropower stations.

The modifications are carried out during regular operations. In the extremely short time period of seven months between order assignment and startup, the first unit was modified and reconnected with the grid.

Technical data

| | |
| --- | --- |
| Neuötting: |   |
| Output: | 3 x 10 MVA / 1 x 1.2 MVA |
| Speed: | 68.2 rpm |
| Perach: |   |
| Output: | 3 x 8 MVA |
| Speed: | 68.2 rpm |