Mini Compact Hydro - New standardized range of products from 20 kW
With the development of a new range of standardized equipment, ANDRITZ HYDRO offers competitive and reliable solutions for micro and small hydropower plants.
These products complete the range of COMPACT HYDRO solutions and confirm the position of ANDRITZ HYDRO as a global leader in this sector.
At the beginning of 2013, ANDRITZ HYDRO decided to expand its product portfolio by acquiring the turbine business of Hydreo Engineering (former THEE created in 1983). This company located in Toul (France), is an established supplier of small hydro turbines, especially for low and medium heads, with more than 450 installed units. Based on highly standardized turbines developed by Toul's staff - according to specific needs of discriminating users regarding small hydropower plants- and through the input of high hydraulic performances thanks to the expertise of ANDRITZ HYDRO - the group is now able to improve its offer. The first half of this year has already confirmed this strategy as private producers as well as big facilities positively welcomed this solution.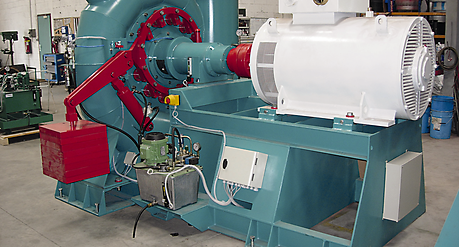 The acquisition of this skilled business in Kaplan and Francis turbines, together with the existing significant know how from ANDRITZ HYDRO Jonschwil (Switzerland) in small Pelton turbines allows us to offer suitable and economical solutions for any kind of small hydropower plant, ranging from 20 to 5,000 kW. In addition to the generating group, ANDRITZ HYDRO also provides Automation and Electrical Power Systems through the business unit of Schio (Italy), which has developed an integrated modular concept. The MINI COMPACT HYDRO consists of a water to wire turnkey package for a low investment and the best utilization of hydraulic resources. ANDRITZ HYDRO thus reaffirms its intention to be a key player in micro and small hydro. To date, ANDRITZ HYDRO has been awarded with more than 30 contracts, despite an extremely competitive market, based on its experienced resources specially dedicated to this equipment.