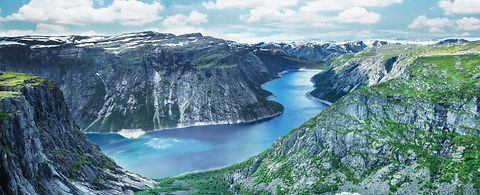 Norway - Smibelg and Storåvatn
SmiSto Kraft AS has awarded ANDRITZ HYDRO a contract for the delivery of the electro-mechanical equipment of the new Smibelg and Storåvatn hydroelectric power plants.
HPP Smibelg is on the southern side and HPP Storåvatn on the northern side of the Gjervalen Fjord in Nordland County, Norway.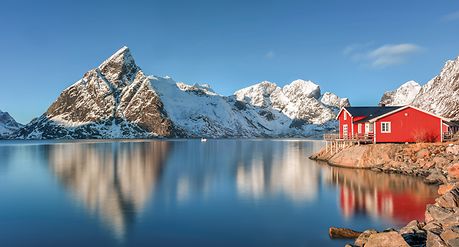 Located on the polar circle, installation and commissioning engineers will perhaps be exposed to the Aurora borealis. The project site is very remote, without any access roads, and boat access is the only option. In order to increase production at HPP Smibelg, a pump station will be built permitting water to be pumped from Vakkerjordvatn to the HPP Smibelg reservoir.

ANDRITZ HYDRO's scope of supply comprises the delivery of three five-­nozzle Pelton turbines and three synchronous generators, main inlet valves, and all necessary auxiliary systems like hydraulic pressure units and cooling water systems, turbine governors, and excitation systems. The two larger turbines and generators at HPP Smibelg and HPP Storåvatn, will be manufactured at ANDRITZ HYDRO workshop in India while the smaller unit at HPP Storåvatn is part of the ANDRITZ HYDRO Compact Hydro program.

ANDRITZ HYDRO was also awarded the delivery and installation contract for the electrical equipment, such as control and electrical power systems including medium voltage switchgear and step-up transformers. In order to increase safety and availability of the installed equipment, the automation concept is based on two independent control systems in normally-open contact principle – in accordance with Norwegian regulations. Due to the remote nature and difficult access, reliability of the equipment is an indispensable requirement of the project. Both hydropower plants will be completely remote controlled from the customer's dispatch centre in Fauske.
Handing over of both hydropower plants to the customer is scheduled for the second and third quarters of 2019.
TECHNICAL DATA
| | |
| --- | --- |
| Smibelg: |   |
| Output | 33 MW |
| Voltage | 11 kV |
| Head | 482.5 m |
| Speed | 500 rpm |
| Runner diameter | 1,810 mm |
| Storåvatn: |   |
| Unit #1: |   |
| Output | 7.9 MW |
| Voltage | 11 kV |
| Head | 435.5 m |
| Speed | 750 rpm |
| Runner diameter | 1,160 mm |
| Unit #2: |   |
| Output | 27.1 MW |
| Voltage | 11 kV |
| Head | 599.1 m |
| Speed | 750 rpm |
| Runner diameter | 1,300 mm |