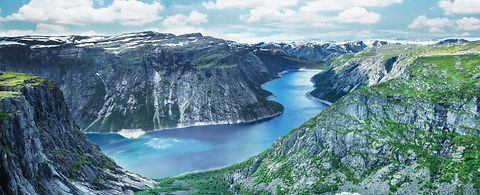 Centrifugal Pump and Screw Turbine - More green energy with innovative technology
One turns an ancient Archimedean principle around, while the other runs in reverse.
Both generate energy in an innovative way from sources that have barely been tapped so far: the hydro­dynamic screw turbine and the centrifugal pump - two technologies from ANDRITZ HYDRO with a lot of green potential.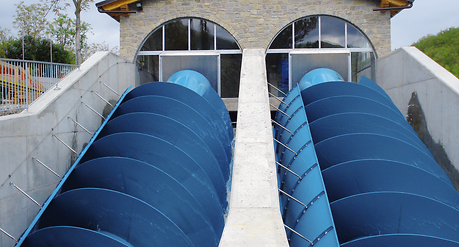 Low investment costs and the opportunity to use even small hydroelectric potential and "wasted" energy are benefits offered by the ANDRITZ HYDRO hydrodynamic screw turbine and centri­fugal pump. Both solutions have already proved successful in numerous applications and convinced customers of their merits with their high energy yield.
Modernizing an old principle
Inspiration for the hydrodynamic screw turbine technology was an ingenious idea from ancient Greece: the Archimedean screw, which enables water to flow uphill. Turning this principle around, the hydrodynamic screw turbine uses flowing water to generate electricity. What's special about this? Efficient use of hydropower is possible even at very low heads and water flows.
The hydrodynamic screw turbine adapts easily to existing conditions, ensuring no major interference with the surrounding landscape. Fish and other aquatic animals can pass through unharmed. In addition, the screw enriches the oxygen content in deeper bodies of water, resulting in improved water quality.

To date, there are around 200 ANDRITZ HYDRO hydrodynamic screw turbines installed worldwide.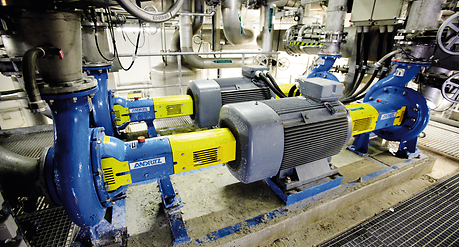 Energy-efficient in forward and reverse mode
ANDRITZ HYDRO centrifugal pumps operate worldwide, conveying many different kinds of liquids. The pumps fea-ture high efficiency and low energy consumption and recover energy in industrial processes or generate electricity from low hydroelectric potential.

In many industrial processes energy is lost, for example, when pressure has to be generated ahead of a filter, before being released without use as it is no longer needed later in the process. This energy can be recovered efficiently with two coupled pumps. The pump running in reverse absorbs the excess pressure and assists the pump running in normal operation. This way, more than 50% of the energy that would otherwise be lost is recovered, thus reducing energy costs.

Hitherto untapped hydropower potential is used profitably in numerous other areas, such as pressure-reducing stations in water pipelines or residual water outputs from hydropower stations and to produce electrical energy up to 1 MW per unit.

In addition, ANDRITZ HYDRO centrifugal pumps are used in micro hydropower plants, helping foresters' lodges or mountain refuges, private households, and commercial or industrial plants to generate their own electricity or supply it to an existing power grid.