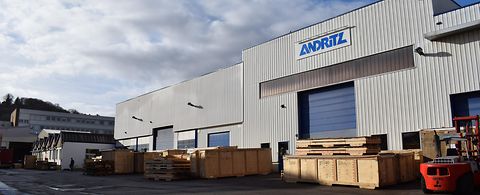 ANDRITZ Asselin-Thibeau S.A.S.
Specialist for drylaid nonwovens machines and lines for direct or crosslaid technologies applicable to all kinds of bonding processes
ANDRITZ Asselin-Thibeau, located in Elbeuf, France, has united the expertise of two pioneers in nonwovens drylaid processes, Antoine Thibeau & Cie (founded in 1896) and Asselin Cie, (founded in 1920). Both companies have been leading providers of customized system solutions for the textile and nonwovens industries right from the very beginning.
Core competences
Today, ANDRITZ Asselin-Thibeau designs and manufactures integrated production lines that include inline and/or crosslaid carding, spunlace, needlepunch, and thermal, chemical, or through-air bonding. All lines can be equipped with a supervisory control assistance system, including production recipes. The product portfolio includes equipment for several levels of performance, depending on local market size, fabric weight, production speed, final application, and maintenance requirements. Brands like eXcelle, aXcess, or ProDyn have set a worldwide benchmark for quality and ensure that customers always find exactly the right technology for their individual demands.
Research and development
The nonwovens market is characterized by a multitude of constantly changing applications. ANDRITZ Asselin-Thibeau therefore has a clear focus on continuous research and development. One example of a recent development in inline carding is the Isoweb TT card. The special configuration at the card output provides remarkable enhancements in CD tensile values and closer MD/CD ratios at very high production speeds. Also in crosslaid carding, innovative devices like ACS and Ouat!sys, which allow crosslapper feeding at higher speed, provide best productivity and optimized quality of the fabric at the same time. Our on-going efforts concentrate on easy-to-apply systems that ensure user-friendly operation and utmost cost efficiency in nonwovens production.
Product development in our technical centers
ANDRITZ Asselin-Thibeau focuses on designing customized solutions.
We offer an unrivalled technical center, providing trials, product development, marketing tests, training, and support are for the following technologies:
Carding
Crosslapping
Drafting
Needlepunching
Winding
Global presence
Thanks to the global network of the ANDRITZ GROUP, ANDRITZ Asselin-Thibeau has the international presence to provide full and effective support to our customers and partners.
ANDRITZ Asselin-Thibeau S.A.S. | Elbeuf