Fully equipped technical center for needlepunch technology
Located in Elbeuf, France, the ANDRITZ Nonwoven needlepunch technical center is equipped with a pilot line, designed on industrial scale. The installation combines all the latest technology developments by ANDRITZ for the needlepunch market.
The needlepunch line includes a high-performance eXcelle double card designed to run short and long staple fibers with a very uniform web aspect despite throughput capabilities in excess of 500 kg/h/m. Here, for the very first time, the TT card concept is applied to crosslapping processes. It can be set to provide highly uniform webs with MD/CD ratios of less than 3:1. Thanks to the TT card system, the line is capable of producing needled felts with low to high elongation percentages, with high tensile strength values. Final MD/CD tensile strength ratios of 1:1 will be possible once the felt reaches the winder.  
Technical center eXcelle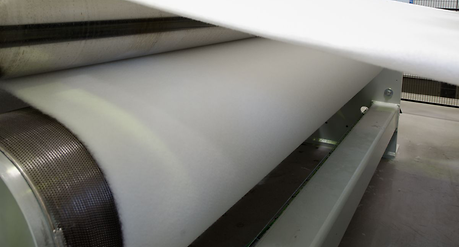 The ACS and the Ouat!sys systems for crosslappers allow high production speed, even with condensed or randomized carded webs. The ProDyn and the Iso-ProDyn systems are available in the pilot line. It is equipped with two fabric web drafting units. The Zeta drafter is designed for speeds of over 40 m/min and also has a very strong drafting capability, thus minimizing aspect distortion during fabric elongation. Furthermore, the A.50-R and A.50-RS needlelooms provide capabilities to needle from one side only or from both sides.
The pilot line also includes state-of-the-art opening and blending equipment as well as an automatic accumulator, slitter, and winder.
The laboratory for testing nonwovens fabrics includes the following instruments
testing equipment
tensile machine
thickness measurement