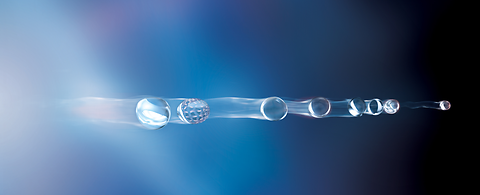 WeCare series
Forming fabrics for hygiene papers. High speed dewatering – top performance.
The challenge
Paper mills for hygiene papers depend on high dewatering capacity, best formation, retention saving, high dry content, dimensional stability, best tensile strength, clean run, and longest lifetime. Our goal is to improve your process performance by ensuring top dewatering efficiency, high fiber support, and effective mechanical retention.
The solution
It takes just a few milliseconds to achieve initial sheet formation and controlled dewatering. A decisive factor is the flow resistance of the forming fabric, which depends on the size of its contact surface, the "internal resistance" of the fabric structure, and its flow rate. We turn a bottleneck into a turbocharger by adjusting flow resistance through the size of the surface open area (ps/ms) and the weft and warp system.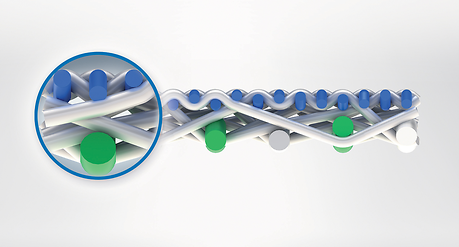 Ultrafine weave pattern on the paper side, openness on the machine side – this is the concept for the forming fabric with turbo effect. The dewatering efficiency can be increased by controlled water management, influenced by the fabric structure. The balancing of characteristics, especially the paper-side cross-oriented fabric surface, leads to a bulky, very soft, but most of all strong tissue base paper that allows downstream processing at a very high finishing speed.
WeCare RUN – proven variety
Forming the basis of the product line
Robust double-layer designs
Single-layer structures and weft-bound triple-layer SSB designs
WeCare PRIME – innovative solutions
Newly developed designs with added value for customers
High pressure- and shock-resistant monofilaments
With more durable machine-side material
Ultrafine paper side with cross-oriented structure for bulky, very soft, and optimum sheet quality and strength.
WeCare product range at a glance
Features

WeCare RUN

WeCare PRIME

Wide range of different fabric designs and types 
(single-layer, double-layer and triple-layer warp-bound SSB)

x

x

Well-approved fabric designs for all hygienic and tissue paper grades

x

x

No limitations regarding hygienic and tissue paper types and their speeds
 

x

Higher dewatering capability
 

x

Higher retention values due to finer fabric top sides
 

x

Improved formation softness and tensile strength by improved surface planarity and more fiber support points
 

x

Higher CMD fabric stability due to the application of the latest material developments (Q-Line)
 

x
Our services – in addition to our fabrics:
Dewatering measurements
Analysis of fabric wear potential and calculation of remaining fabric life
Caliper and tension profile over the total width of the fabric
Stock jet velocity adjustments
Evaluation of turbulence measurements
Air permeability profiles
Paper tests in the laboratory
Layout assistance for forming table
Troubleshooting and start-up service
Fabric repairs
We document all measurements and provide a report on our analysis to each customer. This is part of our value-added approach to customer satisfaction – the best technology coupled with excellent service support.
WeCare PRIME technologies
Q-Line technology – a new generation of monofilaments
Our forming fabrics can have alternating or 100% Q-line CMD yarns on the machine side.
Your benefits
Offers absolutely planar surfaces on the underside and allows constantly low drive loads throughout the entire operation.
Improves directional stability and facilitates fabric guiding.
Provides considerably higher resistance to acidic chemicals than conventional yarn materials.