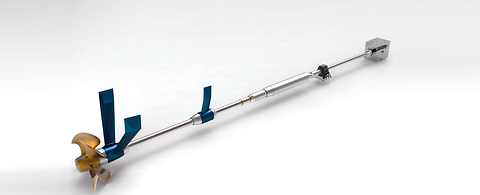 Escher Wyss controllable pitch propellers
Escher Wyss Controllable Pitch Propellers (CPP), provided by ANDRITZ Hydro, deliver outstanding performance for naval and Coast Guard vessels, mega yachts, and many other special application vessels.
The dominant driving forces of propeller design have to be balanced to provide outstanding propulsion performance.

It is a challenge which Escher Wyss Controllable Pitch Propellers are mastering and have mastered in many successful applications in the past.

The outstanding cornerstones of modern propulsion design are efficiency, silence, flexibility, and speed.
Efficiency
In our modern world, efficiency is crucial in all aspects of life. In the world of naval, Coast Guard, and special application vessels, as well as for mega yachts, efficiency has gained more and more attention in recent years. The propellers from ANDRITZ Hydro actively contribute towards an overall efficient propulsion system within a wide operational window and a wide range of prime mover configurations.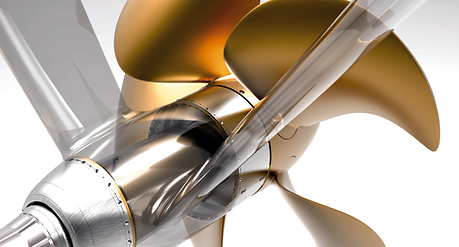 Silence
Being faced with the toughest demands of the navies and mega yacht owners worldwide, the propulsion systems are capable of meeting the strictest noise and comfort requirements on the market.
Flexibility
The concept of a Controllable Pitch Propeller System as such hardly requires any further explanation when it comes to flexibility: It was conceived from the need for more flexibility, maneuverability, and convenience in ship propulsion and is continuously being refined by today's requirements, such as dynamic positioning.
Speed
Customers are strongly focused on speed: whether it is the achievable top speed of a vessel, the maintainable speed under all conditions, the cruising speed, or the response time when changing the speed.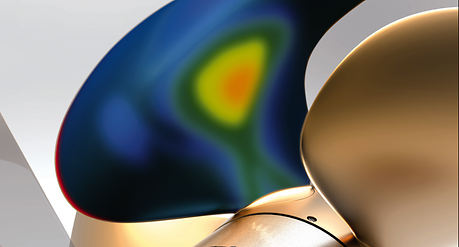 Propeller system design
Escher Wyss propellers tailor CPP systems for highest demands, heavy duty and special applications for clients worldwide. Based on the superior integrated trunnion bearing design, the Escher Wyss controllable pitch propellers feature advanced wake field adapted design (AWAD), extremely low levels of pressure pulses, and significantly extended cavitation inception speed (CIS) to deliver an impressive performance.
For highest demands
The know-how of ANDRITZ Hydro and a comprehensive system of state-of-the-art computer software for analytical engineering ensure the achievement of a well-balanced solution between the conflicting requirements of propulsion efficiency, structural strength, weight, and hydro acoustics. Propeller performances are verified by independent and renowned international ship model basins. Continuous evaluation and comparison of the results in calculation, model testing, and full-scale measurements are the basic requirement to maintain a top position as supplier of tailor-made controllable pitch propellers. Escher Wyss propellers offer the opportunity to profit from technological success and long-time experience of ANDRITZ Hydro in designing and manufacturing controllable pitch propellers for the highest demands.
Trunnion bearing system
The basis for the superiority of Escher Wyss propellers is the trunnion bearing system with its unique double bearing. It has been developed and is used exclusively by Escher Wyss for turbines and controllable pitch propellers. The conceptual advantages in a nutshell include: reduced hub-to-propeller ratio for optimal hydrodynamic behavior, smooth blade palm without any external bolts and bolt openings, and superior mechanical distribution of forces into the hub.

Small hub-propeller ratio with high efficiency
With the trunnion bearing concept, ANDRITZ Hydro achieves smaller hub-propeller ratios compared to conventional CPP designs. This favors a noise-reduced blade design and contributes to high propulsion efficiency in operation. The blade and the trunnion are cast in one piece. Attachment to the hub is achieved by a large radius crank ring on the trunnion inside the hub. Thus, a smooth blade root fillet without pockets for bolt heads can be realized, contributing to undisturbed flow along the hub. Strong levers and links connect the blades with the piston of the hydraulic servomotor, allowing a long stroke and, therefore, excellent pitch control. ANDRITZ Hydro applies relatively low hydraulic pressures by employing a large servomotor piston to change pitch or maintain the blades in their set position.
Hub and hub design
The hub casting supports each blade trunnion in two separate trunnion bearing bushes positioned in the center and outer casing of the propeller hub. This creates a uniform distribution of all forces into the hub body, results in reasonable contact pressures, and prevents deformation of bearing carriers, in particular those of the propeller blade bearings.
The special hub shape of our propellers has been developed in order to combine minimum hub resistance with a delay of the inception of hub vortex cavitation beyond the range of operation. This is successfully confirmed by cavitation predictions on model scale as well as by full scale viewings.
Propeller blades and blade design
Escher Wyss propeller blades are designed and manufactured to meet the highest hydrodynamic and hydro acoustic requirements.
In order to reduce the level of excitation of hull vibration by the propeller, Escher Wyss propellers for mega yachts and naval vessels can feature a high skew design. Pressure pulse amplitude levels below 1 kPa are achievable. With even higher requirements regarding noise and vibrations, 7-bladed propellers (including air emission system) are a conceptual option.
Hydrodynamics
Escher Wyss propellers are renowned for their unique type of blade fastening. With this fastening, the flow on the blade palm and fillets is not disturbed by any blade bolts or pockets, thus restraining the formation of root cavitation and delaying its inception speed by up to six knots. With a consequent in-house hydrodynamic propeller design, we ensure that we stay close, from the first idea to the final delivery of our Escher Wyss propellers.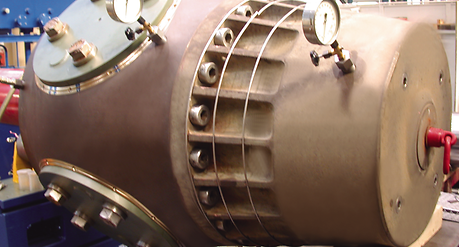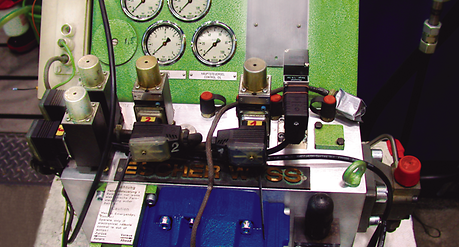 Every part needs a helping hand from time to time. With our OEM parts and services, we can provide you with reliability and appreciation of your equipment on board.
Escher Wyss propellers are well known for their superior durability and reliability. Many of them have been in service for decades. It is, therefore, one of the major goals of ANDRITZ Hydro to ensure proper part and service supply to our customers worldwide.
With an expert team in Ravensburg, Germany, as well as our colleagues worldwide out on the ships, ANDRITZ Hydro is able to identify the problems and find the correct remedial action to take. Daily business includes troubleshooting per conference calls, ordering and supplying of OEM spare parts, adapting of solutions as well as considerable plant modernizations to meet today's requirements.
Early planned maintenance to prepare forthcoming docking times in close collaboration with ship operators will result in optimized processes during major overhaul actions worldwide.
If you need assistance or are planning major work, the service team will be at your side to reduce downtime as much as possible.