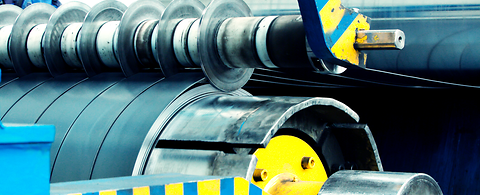 Metals processors & service centers
ANDRITZ Metals USA manufactures and delivers ASKO knives and tooling products for ferrous and non-ferrous coil processing. Whether you need a complete slitter tooling package or a small number of replacement parts, we have the products and technical support to meet your needs. Depending upon your application, we provide slitter tooling in various tolerances. For slitting the lightest gauges, the finest slitter knife and spacer tolerances are often required. For these applications, ASKO tooling is manufactured to the most exacting precision. To add value to the ASKO slitter knives we produce for slitting line applications, our field and customer service engineers can work closely with customers on performance, slitter tooling selection, operator training and maintenance.
 
We regrind and refurbish slitter knives, spacers, and rubber stripper rings. Knives and/or knife cassettes are processed at our facilities for expert reconditioning to original specifications. Our reconditioning programs are designed to support every mill operator's demands.