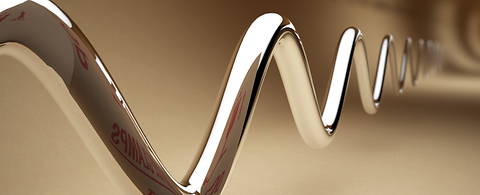 WePack Series
Forming fabrics for packaging paper. Stability, lifetime performance, planar surfaces
Stability, lifetime performance, planar surfaces

Forming fabrics
For the production of all paper grades and all types of paper, board, and tissue machines.

ANDRITZ Kufferath offers a wide range of forming fabrics for paper, board, and tissue applications. Our product portfolio covers all paper grades and machine types regardless of width, speed, or configuration.
The challenge
Paper mills for packaging papers are confronted with increasing machine speeds, a diversity of machine types, declining furnish quality, increasing demands on paper and board quality, as well as rising energy costs. Our goal is to improve paper strength and printability with simultaneous reduction of basis weight as well as homogenization of the surface topography for better printability.
The solution
Stable fabric design for packaging paper with graphic surface qualities is achieved with a combination of two completely different fabric layers in one functional design. One is oriented to the requirements of graphic paper, the other to the high expectations regarding lifetime in the production of packaging paper. Structure-bound, triple-layer fabrics in warp-bound or weft-bound design results in:
Forming fabrics with a fine paper side due to a two-shaft design and the use of comparatively thin yarns
Rugged machine side with noticeably higher yarn diameters, an abrasion-resistant material combination, and longer floating designs
WePack RUN – proven variety
Forming the basis of the product line
Robust double-layer and long-floating designs
From structures with one and a half layers to warp-bound and weft-bound, triple-layer SSB designs
WePack PRIME – innovative solutions
Newly developed design with added value for customers
New energy-saving material compositions
Containing Q-Line or E-Line monofilaments
With more durable machine-side designs
Improved fabric layer bonding technology
Finely structured paper sides for optimum sheet quality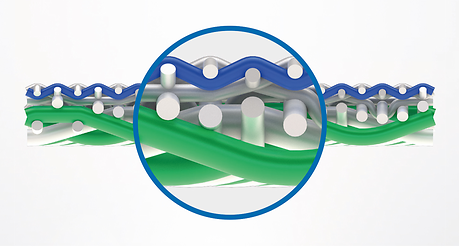 WePack products at a glance

| | | |
| --- | --- | --- |
| Features | WePack RUN | WePack PRIME |
| Wide range of different fabric designs and types (single layer, one and a half layers, double-layer, and triple-layer SSB) | x | x |
| Widely approved fabric designs for all paper grades | x | x |
| No limitations regarding paper or board machine types and their speeds | x | x |
| Up to 20% longer fabric life due to significantly higher wear potentials | | x |
| Greater wire section dewatering overall | | x |
| Higher retention values due to finer top side of fabric | | x |
| Improved formation and better printability with greater surface planarity and more fiber support points | | x |
| 15-20% savings on friction-related energy costs due to application of the latest material developments: E-Line and Q-Line | | x |
Our services – in addition to our fabrics
Dewatering measurements
Analysis of fabric wear potential and calculation of remaining fabric life
Caliper and tension profile over the total width of the fabric
Stock jet velocity adjustments
Evaluation of turbulence measurements
Air permeability profiles
Paper tests in the laboratory
Layout assistance for forming table
Troubleshooting and start-up service
Fabric repairs
We document all measurements and provide a report on our analysis to each customer. This is part of our value-added approach to customer satisfaction – the best technology coupled with excellent service support.

WePack PRIME technologies
E-Line technology
energy savings of up to 20% at the wet-end of your machine
Features
Benefits
E-Line availability

Provides a lower friction coefficient than polyamide and is applied with alternating polyester weft (CMD) yarns on the undersides of forming fabrics.




15-20% lower drive load compared to commonly used polyester/polyamide forming fabrics
Reduction of energy costs
Improved running characteristics
Increase in paper production
No change in operation of the paper machine
Easy, unchanged fabric handling

E-Line yarns are available for all ANDRITZ Kufferath triple-layer SSB designs.
20% savings
Compared to polyester/polyamide fabrics still predominantly used today, paper produced with E-Line yarns achieves savings of up to 30%. Abrasion-related changes in fabric properties appear substantially later due to less friction between fabric and vacuum-aided dewatering elements. The preconditions for optimum sheet formation similar to that of a new fabric are preserved for longer.
Q-Line technology – a new generation of monofilaments
Features

Benefits
Q-Line availability





Our forming fabrics can be woven with 100% or alternating
polyester weft (CMD) yarns on the undersides.




Offers absolutely planar underside surfaces and allows 
constantly low drive loads throughout the entire operation.
Improves directional stability and facilitates fabric guiding.
Provides considerably higher resistance to acidic 
chemicals than conventional yarn materials

​​​​​​​Q-Line yarns are available for ANDRITZ Kufferath triple layer SSB designs.
QSB-Technology – a new, more effective way of bonding
Features

Benefits

Q-Line availability





Allows a significantly higher number of SSB binder points




Thus, QSB PRIME designs:
do not show inner wear
provide higher CMD strength
have reduced elongation during operation
enhance surface flatness for 
homogeneous paper profiles




QSB-Technology can be applied to fine and robust SSB
fabric designs