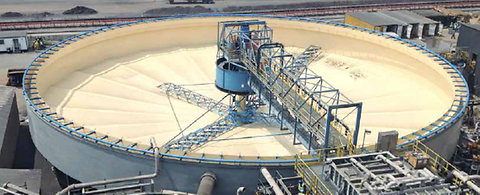 ANDRITZ thickening and clarification systems
In the most challenging applications, reliable liquid clarification and slurry recovery is critical to maintaining continuous production. This is why ANDRITZ has put decades of expertise into thickening and clarification systems to provide an efficient and cost-effective solution.
ANDRITZ thickening and clarification solutions are designed to achieve the highest production rates without compromising efficiency. For all counter-current decantation (CCD) plants: The new and improved ANDRITZ inter-stage mixing and dilution system for CCD circuits helps to reduce the footprint and consequently cut CAPEX while maintaining low operating costs. The innovative paste-thickener design facilitates highly clarified liquid recovery as well as maximum underflow densities.
ANDRITZ's supply philosophy is to present the user with the most effective and technically viable system. This is especially important when very high underflow densities are required. In cases like this, high-density or paste thickening technology can be used in combination with the various filtration technologies offered by ANDRITZ.
A targeted range to meet your requirements
The ANDRITZ thickener range has been designed to meet your needs and constraints in the mining, minerals, and chemical industries.
ANDRITZ EcoSET thickener
ANDRITZ GeoSET thickener
ANDRITZ LiKOSET thickener
Mixing and counter-current decantation (CCD)
ANDRITZ deep-cone settler
Paste technology
Custom ANDRITZ thickeners
Discover all our range in details in our ANDRITZ thickening and clarification systems brochure available for download here.
Your benefits
High throughput with optimized underflow density, flocculant consumption and overflow clarity
Reduced downtime due to innovative feedwell design
Global manufacturing facilities
Global testing facilities
Minimal site construction work thanks to hybrid bolted design
Global service centers
Evenflow feedwell 2.0
The benefits of the new and improved Evenflow feedwell are plain to see:
Optimum flocculant consumption by enhancing residence time within the feedwell
Controlled slurry distribution within the feedwell by incorporating fins to prolong flocculant contact time
Low operating costs
Elimination of choking by including a deflector plate scraper and clover outlets
Reduced downtime for maintenance work
Optimized settling rate with efficient dilution system 
Dilution means to reduce the concentration of solute in a solution by simply adding more solvent.​ This dilution step guarantees a perfect solid-liquid ratio in the feed to enhance settling rate once flocculants are added. Flocculants are more effective once added to perfect solid-liquid ratio. 

ANDRITZ dilution system GR 
Internal dilution system​ 
Flow rate: 0 – 2,600 m3/hr​ 
Situated at a distance that will not hinder free settling rate or mud bed formation​ 
Easily Retrofittable​ 
ANDRITZ dilution system NT 
Internal dilution system​
Flow rate: 600 – 9,000 m3/hr ​ 
Use overflow liquid to dilute incoming slurry to the required solid-liquid ratio​ 
Can accommodate slurries with low pH values​ 
ANDRITZ dilution system XT​ 
External dilution system​ 
Flow rate: 2,800 – 15,000 m3/hr​
Allows for large dilution rates​ 
Better mixing capabilities​ 
Paste and Counter-Current Decantation (CCD) technology

Mixing and counter-current decantation
CCD dilution pump/mixers allowing flat design and elimination of elevation differences between CCD thickeners
Maximized soluble recovery thanks to inter-stage mixing
High levels of closed-circuit dilution counteract the negative effects of surging underflow pumps
Bulk closed-circuit dilution technology (35% to 5% solids) using thickener overflow taken from the overflow weirs
Accurate (to within 1%) and adjustable feed dilution to optimize flocculant usage
Auto-dilution
The optimum percentage of feed solids will ensure maximum flocculation and optimized solids loading (t/m²/day)

Consistent underflow quality

Efficient washing in CCD circuits
Paste technology
Good mixing to assist in agglomerating many individual flocculants, which can release trapped liquor when compressed
Feed distribution systems that introduce the flocculated material into a consolidated bed where new material interacts with old to further grow the flocculated material
Picket fence rakes to assist with water release from the compacting sludge
Low-profile rake designs that allow the easy release of water and minimize flocculated solids hang-up
ANDRITZ bolted thickener
Shorter assembly time on site
Easier / less complex assembly
No non-destructive testing required on site welds
Minimal paint touch-up required on site
Less weather-dependent during site erection (due to shorter assembly time and less paintwork)
Light construction compared to other bolted thickeners in the industry
Complies with all major national and international standards on safety and construction work
Possible assembly in our workshop prior to delivery to ensure a smooth installation on customer site
Substantial space available for pumps, piping and maintenance work underneath the thickener
Easily replaceable discharge cone
Applications
Mining & Minerals
Copper/cobalt
Uranium
Coal
Lead
Zinc
Iron ore
Industrial effluents
Clarifying of underground mud
Lithium
Potash
Phosphate
Chemicals