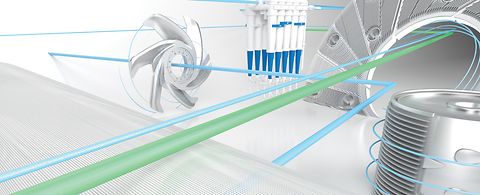 ANDRITZ engineered wear products
Engineered wear products for the pulp & paper industry
Our mission is to create value in two ways: Improve the value of your mill's production, and add value through the way we work with you.
Our mission starts by ensuring the economic value of our technology and services.
Our roots are in technology – and that is where we add considerable value to your screening, cleaning, refining, dispersing, and other stock prep processes, even the paper machine itself.
But the components we deliver are not simple replacement parts that are mass-produced in a machine shop. Every single ANDRITZ component – screen basket, rotor, refiner plate, cleaner, or forming fabric– is engineered to improve your process.
We have 150+ years of original equipment manufacturer (OEM) experience in equipment design, coupled with extensive process design expertise as a full-line supplier for pulp, paper, and power producers. This knowledge is blended into every component you receive from us – for ANDRITZ or any brand of equipment. Production increases. Energy demand drops. Quality improves. Components last longer. Yield is boosted.
Our mission is enhanced by the way we do business – adding value through collaboration and partnership.
Lots of companies talk about partnership, but what does it really mean? A partnership is formed when we share common goals and interests. For us, the common goal is to maximize your production and efficiency. The common interest is to increase your mill's profitability. We do this by sharing as much information as possible – listening to your concerns, talking with your production and maintenance people, and then recommending solutions based on our experience.
Looking for engineered wear products? Use our product finder below: