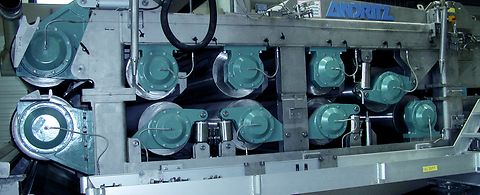 Twin wire press service
With some 600 twin wire press installations around the world and over 65 years of experience, ANDRITZ is your reliable partner for twin wire press technologies, spare and wear parts, as well as customer-specific services.
Twin wire presses are installed in numerous dewatering processes in the pulping industry, such as sheet drying and wet lap systems, HC bleaching systems, dewatering, and washing. All types of chemical and mechanical pulps, recycled fiber pulps, and pulps from more unusual raw materials (e.g. bagasse, cotton, straw) can be dewatered using twin wire press technology.
Twin wire press service solutions
Preventive and corrective maintenance by using high-quality spare and wear parts enables you to operate at maximum output, while reducing operating costs and downtime to a minimum.
Performance evaluation and functional inspection of your twin wire press by professional and skilled ANDRITZ staff together with your experts.
A huge variety of ANDRITZ upgrade products provides improved performance, energy and cost savings, and an ROI within the shortest time.
ANDRITZ offers its services for all types of double-wire presses, regardless of who the OEM was.
Twin wire press upgrades
Conversion from low-consistency (LC) to medium-consistency (MC) headbox for an increased production rate.
Self-adjusting floating wedge section compensates variations in the pulp feed, such as flow or consistency swings, thus ensuring a higher production rate.
Stainless steel dewatering boards minimize the risk of deformation and plugging of the plates and keep the operational performance of the press up. With the ANDRITZ Fishbone design the open dewatering area is even increased.
Upgrade of the S-section to a press nip for higher dewatering capacity and higher wire life time.
Wear-resistant stainless steel-clad rolls are virtually maintenance free. Grooved rolls can be installed for higher dewatering demands. Read more
Split press section ensures self-adjusting pressure distribution across all press nips for optimum dewatering.
Replacement of the stiff press water doctor with a new, flexible, and exchangeable design provides easy maintenance and blade exchange.
Drive roll press nip results in increased final dryness and minimizes the risk of wire slipping.