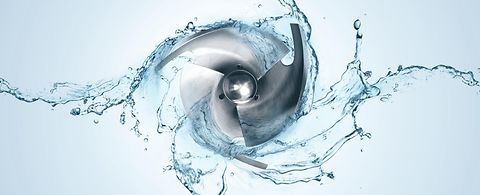 ANDRITZ Pumps
A success story spanning over 165 years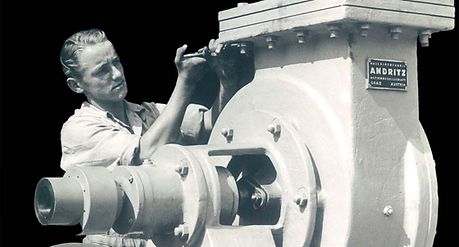 A brief history of ANDRITZ Pumps
The international technology group ANDRITZ looks back on a long tradition as a manufacturer of machinery and industrial plants.  In 1852, the company was established by Josef Körösi in Graz as an iron foundry.  Just a few years later, the product range included pumps and water turbines.

After the Second World War, ANDRITZ began its cooperation with the Swiss Escher Wyss Group.  In 1951, ANDRITZ embarked on the production of complete paper machines together with Escher Wyss.  As a result, part of the pumps department began specializing in the pulp and paper industry.  Many different process pumps were developed over the years, and the pumps program is constantly expanding.

In 1954, the Anstalt für Strömungsmaschinen (ASTROE Institute of Hydraulic Research) was established.  This provided a modern research institute for hydraulic machines that was awarded state authorization in 1959 to issue test certificates recognized by the Austrian government. Today, hydraulic machines are developed and tested at five locations within the ANDRITZ GROUP.

In 2006, ANDRITZ acquired the hydropower division of VA TECH.  This acquisition made ANDRITZ a leading global supplier of water and pump turbines.
 In 2008, ANDRITZ also took over the hydropower sector of GE Energy.  All hydropower activities of the ANDRITZ GROUP, including the Pumps Division (ANDRITZ Pumps), are combined in the ANDRITZ HYDRO business area.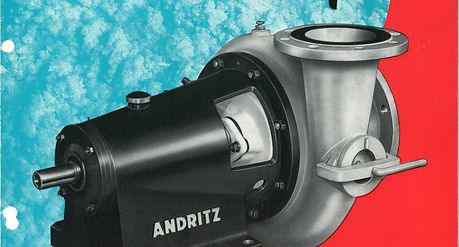 Outstanding milestones in ANDRITZ pumps development work
In 1960, ANDRITZ supplied the first cooling water pumps that allowed the angle of the impeller blades to be adjusted while in operation.  Thus, it was possible for the first time to operate a pump at different flow rates and delivery heads.  The proven hydraulic adjusting mechanism used in Kaplan turbines was thus transposed successfully to cooling water pumps. Since then, a large number of these pumps have been manufactured, with power ratings of up to 5,000 kW.

In 1997, ANDRITZ set up a joint venture with a local pump manufacturer in the Chinese province of Guangdong.  Thanks to these activities, ANDRITZ was able to establish itself as a market leader for centrifugal pumps in the paper industry in China.

In 2000, ANDRITZ introduced a new double-suction split case pump on the market with efficiencies of over 90%.  ANDRITZ double-suction pumps are used to transport water or as cooling and circulating pumps in power stations, industrial plants and in district heating networks.  They feature low pulsation and are thus also optimized for use as headbox pumps in the paper industry.

In 2006, ANDRITZ was awarded a contract to supply one of the world's largest horizontal, double-suction split case pumps for the water supply to the megacity of Beijing.  The eight split case pumps with a motor rating of 7,300 kW each have an approximate weight of 60 metric tons.

In 2007, the existing series of medium-consistency pumps was revolutionized.  For the first time, it was possible to operate a medium-consistency pump without a vacuum pump. This resulted in a substantial drop in maintenance requirements.  In addition, the new ANDRITZ medium-consistency pump with efficiencies of up to 70% helps to save valuable energy in the papermaking process.

2009 saw the delivery of the most powerful irrigation pumps ever built by ANDRITZ.  This order comprises five single-stage, vertical split case pumps, each with a motor rating of 30,000 kW.

In 2010 the world's largest medium-consistency pump went in operation at the UPM pulp mill in Fray Bentos, Uruguay. The pulp mill increased its production from 3500 admt/d to 4000 admt/d and thus required a larger medium-consistency pump. The decision fell in favor of an ANDRITZ medium-consistency pump because it uses the same motor as the previous smaller pump in spite of the higher capacity.

In 2016, ANDRITZ introduced a new high-pressure pump (HP 43) on the market with efficiencies of over 90% and stringent ecological alignment. 
In 2017, ANDRITZ was awarded the contract to deliver 27 vertical volute pumps to a mega infrastructure project in Telangana State, India. Their installation and commissioning started in June 2019.

In 2019, ANDRITZ was chosen to develop, manufacture and supply four customized two-stage vertical pumps for waster transport as part of the Shanxi Xiaolangdi Yellow River Diversion Project in China. 
The pumps will convey five cubic meters of water per second and thus, contribute to the project's aim to handle and transport 247 million cubic meters of water annually.