Baby food
Satisfying the world's smallest customers
It goes without saying that the manufacture of food for babies and infants needs to be of the highest quality, with absolutely no risk of contamination. At the same time, the process has to be highly efficient while producing that distinct, memorable taste. These are just a few of the reasons more producers around the world choose to partner with us.
Through our acquisition of Royal GMF Gouda of the Netherlands, we gained a market-leading storehouse of knowledge in all aspects of dried baby food manufacturing. This includes technologies covering the complete process line for drying, milling, mixing, and more – many setting new industry standards in hygiene and efficiency.
Unmatched expertise
Under the name ANDRITZ Gouda, we continue to bring reliable and efficient solutions to leading baby food producers throughout the world. To date, we've installed more than 500 drum dryers and dozens of turnkey lines for baby food production. Capabilities range from design, engineering, and pilot plant testing to installation, commissioning assistance, and after sales service for single process steps on up to complete process lines.
Setting the global standard
In the food industry, we are well known for our proprietary drum drying technology for dried baby food. It's a technology known for the unique taste, full gelatinization, and consistent quality of its end products. Over the years we've raised the benchmark even further, continuously optimizing our machines to set new hygiene standards and developing new process solutions to meet specific customer challenges. From our "kitchen" in Waddinxveen in the Netherlands, we can test baby food and cereal applications or even optimize your recipes to produce the roasting effect, bulk density, or film thickness your products demand.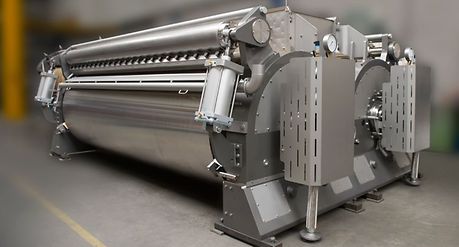 Key process steps
Reception and raw ingredient preparation
Recipe mixing
Holding/buffer tanks
Slurry pre-cooking
Drum drying
Milling
Storage
Weighing
Packaging
End products
Dried infant food
Dried baby food
Breakfast cereals