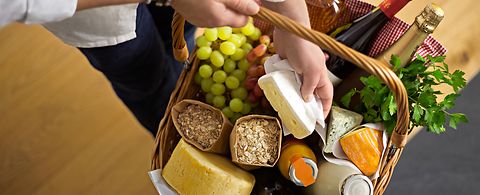 Food and beverages
The right ingredients for your success in the food industry
Want to get more from less? Purer products? Better taste? With more than 100 years' experience in the food industry, serving everyone from multinationals to smaller family operations, we can promise you one thing: your goals come first.

Comprehensive range of solutions
With ANDRITZ SEPARATION, you gain access to one of the most complete portfolios of mechanical and thermal solid/liquid separation in the world. Whether you are looking for a particular separator, clarifier, decanter, filter press, dryer, we offer a wide range of solutions for various food applications.
As a result, we can serve as a neutral advisor in selecting the technology best suited to your process.
Experience that comes full circle
Whatever your food production needs, we most likely have both the technology and process knowledge to help you create it. Whether it is baby food or instant coffee, daily staples like juice and olive oil, or even fine cheeses and champagne. It might be a white-label product that hits the right price point with the highest margin, or an enriched byproduct with zero risk of contamination. Or maybe you want to create a niche product with uncompromising purity and an unforgettable taste. From the supermarket shelf to the local delicatessen, our expertise is always close at hand.

Let's be brilliant. Together.

Ever since our first food research and development test +100 years ago, we have been partnering with customers in the food industry to improve their success. Today we offer a wide range of global, regional and mobile R&D test capabilities to support dairy, vegetable oil, beverage, baby food, and other types of customers. In total our 40 different lab-scale machines are performing 80 tests a year for new applications – 365 days a year!
In terms of product purity and plant safety, food manufacturers are among our most demanding customers. These strict process requirements and specific characteristics drive our technology selections to give you the optimal filters, presses, centrifuges, decanters, purifiers, concentrators, drying/cooling, and automation systems for your needs. Need a more tailored solution? Our own test and pilot facilities are available to help.