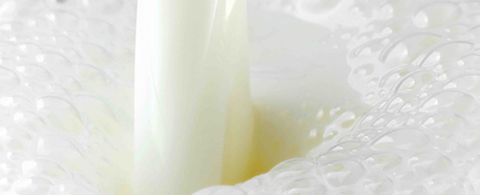 Dairy
A broader approach to tackling tomorrow's dairy challenges
What's the next big opportunity for your business? Despite having worked with thousands of dairy customers over the years, the answer to this question is never quite the same. Whether it's boosting your margin on white-label products or ensuring the superior quality of a branded product, it all comes down to your ability to choose from one of the industry's broadest ranges of separation solutions. Solutions that meet the fast-changing needs of today, and for years to come.
A century's worth of insights
Under Frautech, Gouda, and other brand names, we've applied our global resources to serving dairy producers of all sizes and applications throughout the world. This includes upgrades, process optimization, mechanical audits, and more. It's this knowhow that we apply to approximately 150 dairy installations every year for customers like Nestlé, Arla, Fonterra, and other more local producers. Whether it's gentler treatment that preserves the quality of ingredients or a higher output with lower operating costs, it's all about providing the expertise you need to create pure, natural products that give you an edge on the supermarket shelf.

Milk reception and pasteurization - A more profitable approach

Our separation solutions link the various process steps such as pasteurization, standardization, and homogenization. It's a uniquely gentle process that produces dairy products of the highest quality, with minimal somatic cells, bacteria, spores and maximum retention of undamaged native fat globules and milk proteins. All so you can concentrate on further process streams and value-added products. For example, we can help you to minimize the bacteria content in the milk prior to pasteurization and evaporation by using our bacteria removing clarifier. Or offer special know-how for powdered milk used in exclusive chocolates.
The speed and efficiency, with which our machines separate, clarify, concentrate, purify, and dry adds to your productivity, ensuring reliable performance and lower total operating costs – year after year.
ANDRITZ SEPARATION equipment for milk reception and pasteurization:
ANDRITZ Frautech separators for clarification, bacteria removal, cream separation, concentration and purification.
ANDRITZ Lattomatic, the automatic milk fat standardization system
ANDRITZ CremaViva separator for high quality cream
Krauss-Maffei DCF Dynamic crossflow filter for high concentration of dairy products
ANDRITZ Gouda drum dryers for drying
Drum dried milk powder - More chocolate, lower cost

Ever since developing the world's first drum dryer in 1916 and our first mill sifter a year later, we've built a global reputation in the food industry for providing robust, high-quality drum drying processing lines. With more than 500 dryers installed for milk drying alone, we've proven ourselves to be a capable partner for handling everything from the engineering and design to installation and start-up.
We can test your materials in our pilot plants to help achieve your goals in terms of taste, purity, and product characteristics. In addition to its high concentrations of free fat, which enables you to reduce the amount of cacao butter, drum dried milk powder also maintains excellent fluidity in the chocolate mass while giving the milk powder a distinctive caramel taste.
ANDRITZ SEPARATION equipment for drum dried milk powder:
ANDRITZ Gouda drum dryers
ANDRITZ Fluid bed coolers
ANDRITZ Gouda Mill sifters
Casein production - The smarter way to a better product

Decanter centrifuges have been used in the dairy industry for over 100 years, and the development continues. Since our first casein installation in 1970, we have continued to refine our solutions, developing low-foam features that reduce the need for chemical defoaming agents. With this innovative approach to casein decanting, the end product is not only free of chemicals – a key potential allergen – but is also less costly to produce, with some customers saving up to 25,000 euros a year in defoaming agents alone.
This work has led to a generation of decanters for the production of casein that performs continuously, is easy to maintain and clean, and produce a dry cake that preserves the valuable casein product. Our decanter's performance is measured not just by its separation capabilities, but also by its "simply clever" design – delivering high availability and efficient cleaning-in-place (CIP). It's all part of our ongoing effort to develop smarter, more efficient solutions for casein producers everywhere. Whether it's a clarifier, skimmer, bacteria removing clarifier or decanter, the result is a complete processing solution that creates the most value for your facility, your end product, and your production staff – for years to come.
ANDRITZ SEPARATION equipment for casein production:
ANDRITZ Decanter for de-wheying and de-watering
ANDRITZ Fluid bed dryers and coolers
Whey treatment - Redefining operational efficiency

Few global suppliers can match the range of expertise and innovation we bring to customers in whey treatment. For decades, we've developed not only high-yield lactose decanters but continuously develop new technologies like the DCF.
ANDRITZ SEPARATION equipment for whey treatment:
ANDRITZ Frautech separators for clarification, cream separation and bacteria removal of whey and whey derivates,
Krauss-Maffei DCF Dynamic crossflow filter for high concentration of whey products
ANDRITZ Decanter for calcium concentration and lactose separation
ANDRITZ Gouda drum dryers for drying step
ANDRITZ Fluid bed dryers and coolers
ANDRITZ Fluid bed spray granulator for granulation of whey​​​​​​​
Wastewater treatment - For a complete treatment

Beyond the solutions of separation throughout the process of production, ANDRITZ SEPARTION also proposes a wide portfolio of separative technologies for the waste treatment of dairy.
ANDRITZ SEPARATION equipment for wastewater treatment:
ANDRITZ Screens range
ANDRITZ Decanter for dewatering of dairy sludge
ANDRITZ PowerDrum, drum thickener, or PowerDrain, gravity belt thickener, for efficient sludge thickening
Key process steps
Clarification of milk and whey
Bacteria removal
Skimming of milk and whey
Cream concentration
Membrane filtration
Drying processes
End products
Milk
Cream
Cheese
Quark
Soft cheese
Butter
Butter oil
Baby food
Whey protein
Lactose
Casein