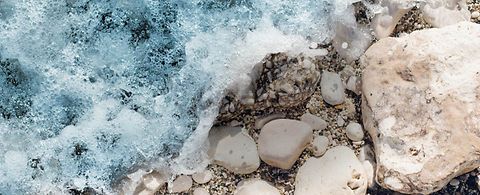 Microalgae
Expertise in extracting high-quality nutrients
Processed algae in the form of powders, tablets, and capsules has long been used for animal feed, nutraceuticals and cosmetics – but it can also be added to foods like pasta, bread, crackers, soups, sauces, sports drinks and more. Because nutrient-rich microalgae can be grown easily in almost any location, it is quickly becoming an affordable source of proteins, antioxidants, and omega-3 fatty acids. Thanks to our industrial dryers, ANDRITZ can help turn this unique resource into a valuable commodity.
Consistency through industrial drying
The cultivation of algae begins by eliminating bacteria and fungi, leaving only pure algae at the peak of its nutritional value. Once the water is removed, the remaining paste is dried into bright green flakes that are then ground into powder. For more than a century, ANDRITZ has specialized in food processing production lines based on advanced drum drying technology.
While producers may choose to use a standard spray dryer or a freeze dryer for certain algae applications, our drum dryers offer the fastest and most cost-effective solution. Where spray drying can be difficult and time-consuming to adjust the process to variations in the microalgae, our drum dryer is a very versatile and adjustable machine, resulting is highest process robustness. It ensures high-quality, consistent results regardless of viscosity and we welcome producers to complete a test run in one of our plants.
The less heat, the better the product
As drum dryers are open machines that function at atmospheric pressure, some heat-sensitive algae varieties benefit from being dried in the absence of oxygen. Haematococcus pluvialis, for instance, the world's richest source of astaxanthin, requires a vacuum dryer to prevent oxidization because it affects both color and quality. ANDRITZ created the first continuous vacuum drum dryer on the market for producing a high-end algae product. It is designed to help producers who want to lower the boiling point and dry below 100 degrees in order to retain nutrients.
Key benefits
Superior and consistent product quality at high volumes

Highly efficient drying process

Low operating costs

Low capital expenditure

Energy efficient

Small footprint