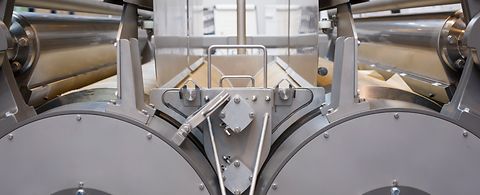 ANDRITZ Gouda BV
Maintain and supply the highest standard of industrial excellence
ANDRITZ Gouda BV, part of ANDRITZ SEPARATION, is a versatile manufacturer and supplier of processing machines for the food, chemical, and environmental industry. The comprehensive product portfolio covers everything from standalone equipment to turnkey process solutions.

ANDRITZ Gouda combines more than 100 years of technological expertise with the ability to manage all stages of large industrial projects. Together with state-of-the-art manufacturing technologies, ANDRITZ Gouda offers an integrated approach for the set-up of processing lines. We have experience in designing and building plants, including the engineering, installation, start-up, service, and commissioning of the plant.
ANDRITZ Gouda is constantly aiming for a low environmental footprint, reduced energy consumption, quality driven and client-oriented engineering and an hygienic, stable, and reliable production process. Our goal is to improve our customers' operational and financial performance with a favorable and profitable impact on their business and a measurable return on investment.
Characteristic for our technically oriented company is that we invest heavily in research and development in order to respond to the evolving needs of our clients. For more than a century of continuous operation, our laboratory has tested and developed solutions for a huge variety of requirements. Still today, the results and the experience gathered are used for the benefit of our clients.
ANDRITZ Gouda has several pilot plants to test new materials, generate design data or provide representative product samples. The pilot plants are also used to optimize a process before implementation or investigate its feasibility. The calculation model for scaling up to industrial size ensures successful application in real-life processing.
ANDRITZ Gouda is committed to building open and long-term partnerships with its customers in order to support them in growing their business sustainably and successfully.
Service
With a 24/7 service availability, all through a single point of contact, value is added at every stage of the production process. ANDRITZ Gouda helps customers to extend the operational lifespan of their machines. Those who invest in this type of expensive equipment will expect constant use. Downtime means lost production. Our service department is perfectly equipped to supply spare parts, globally, at very short notice. Many critical machine parts are kept in stock in our warehouses.
Products
Drum dryers (baby/infant food, dairy, potato flakes, …)
Drum flakers (fatty acids, polyethylene glycols, …)
Paddle dryers (bio solids/sludge, superabsorbents, …)
Plate dryer (APIs, Tea, Fine Chemicals)
Helix dryer (Antibiotics, dyes, pigments, fine chemicals)
History
Goudsche Machinefabriek BV built the first drum dryer in 1916
2009: Name changed from Goudsche Machinefabriek to Royal GMF-Gouda
2012: Name changed to ANDRITZ Gouda BV
Products and services
Equipment and turnkey process solutions for the food, chemical, and environmental industry
ANDRITZ Gouda B.V. | Waddinxveen