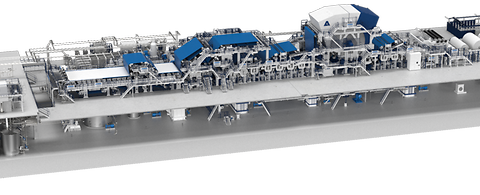 Passionate paper engineer Albrecht Miletzky joins ANDRITZ as Head of Technology for Paper and Board
ANDRITZ has appointed Albrecht Miletzky, a paper engineer and production manager with many years of experience at one of the leading European paper and board producers, for containerboard among other things, as Head of Technology for Paper and Board.
He joins the Group at a pivotal time for the sector. Paper and board manufacturers are working increasingly on energy efficiency and sustainability by investing in state-of-the-art technology, innovations and, additionally, a higher degree of automation and digitalized processes. The skills and attitude required from technology companies like ANDRITZ have needed to evolve to ensure an effective and productive partnership with customers.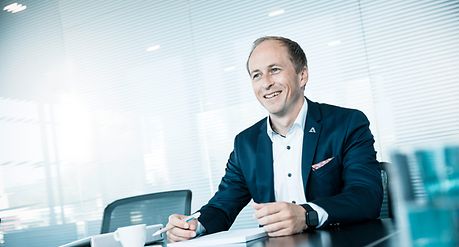 "We are not just a supplier of machinery, but of sustainable solutions based on know-how," says Miletzky. "A shoe blade gap former, for example, is not just a piece of equipment, but part of the forming process that ensures our customers excellent productivity by providing a high dewatering capacity at changing furnish conditions and machine speeds. The same applies to the shoe press, with the highest line loads available on the market and customized shoe profiles. This enables the mill to save energy because higher dry contents are achieved after the press section. In addition, we stand side-by-side with our customers by continuously improving their operations in terms of reliability and predictability as well as building up know-how on their processes. Here, I would just like to mention our expertise in machine clothing design and our digital solutions platform called Metris. We have to ensure that our customers evolve the skills to run ever-more complex paper machines, and we take this responsibility very seriously. In my relatively short time at ANDRITZ, I have witnessed the passion, expertise, open culture, and closeness to the customer that enables great results to be achieved in this context."
MUTUAL BENEFITS
The benefits of such a partnership approach are mutual. The customers' gain is being able to access a knowledge and service support network. This ensures that their assets run at peak efficiency and use the minimum amount of energy to maximize the sustainability of their processes.
In turn, ANDRITZ receives invaluable input for its R&D efforts to support customers even better in the future. "Every time we help make a press section more efficient, increasing the dry content, we gain further insights that we can use in our own developments. Moreover, when we listen to our customers, we effectively generate a heat map of where the most critical needs of the industry lie, and this helps us to focus even more on outcome-driven innovations. It helps us to be very targeted," says Miletzky.
The strategic home of innovation at ANDRITZ is ANDRITZ Ventures, the dedicated corporate innovation and startup arm of the group. Miletzky: "ANDRITZ Ventures is about marshalling our internal and external innovations networks. It harnesses the fact that the ANDRITZ GROUP has diverse endues technologies that often have synergies, for example paper, board, tissue and nonwovens. This opens our minds to new ways of thinking and can bring real benefits for customers."
STRATEGIC OBJECTIVE
A strategic objective for ANDRITZ is to expand in the containerboard market, and Miletzky's years of experience in production of containerboard help him see the whole picture. "As a paper engineer, I experienced ANDRITZ as a highly competent partner that is very close to its customers. I want to build on that, to listen carefully and provide unique solutions where appropriate, both for rebuilds and complete lines."
ANDRITZ has a record it can be proud of. Recent orders include Mayr Melnhof Karton in Frohnleiten, Austria, which will increase production, improve quality, and shrink the environmental footprint of KM3, which is due to start up in 2023. Then there is the reference at Heinzel Group's Laakirchen Papier in Austria, which, with speeds up to 1,420 m/min. following the ANDRITZ rebuild, has become the fastest converted containerboard production machine in the world. The next step is a ropeless tail-threading system from ANDRITZ in the double-tier part of the after-dryer section.
"I look forward to further enhancing ANDRITZ's strong reputation as part of the excellent team here at Paper and Board," concludes Miletzky. "We take nothing for granted and are serious about our responsibility to support the most innovative, sustainable paper and board production – now and in the future."