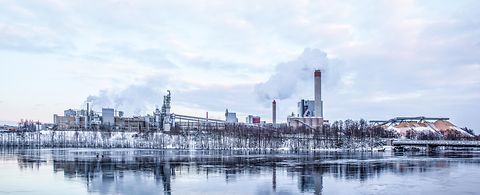 Kymi: HIGHER CAPACITY MORE FLEXIBILITY LESS ENERGY
UPM's EUR 160 million investment project resulted in about a 25% increase in pulp production at the Kymi mill in Finland. ANDRITZ helped modernize the softwood fiberline and delivered a new pulp drying line.
With this most recent investment, UPM made substantial progress towards its target to boost its 3.3 million tonnes of pulp capacity by 10% over the next three years.  The Board approved the investment in February 2014.
ANDRITZ was chosen to deliver a complete new pulp drying line and to modernize parts of the softwood fiberline. The ramp-up of all systems, according to Tero Ojala, Project Director, has been very good. "The debarking plant started in June 2015, the modernization of the softwood line was completed in August, and the new pulp drying line started in September, ahead of schedule," Ojala says.
"Pulp production has exceeded our expectations and the quality of pulp, which was already excellent, has improved," says Markku Laaksonen, Mill Director.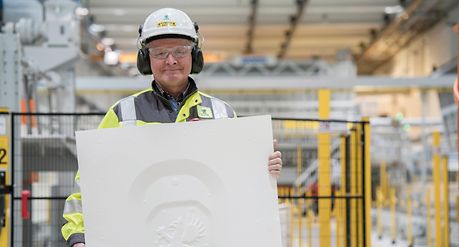 Safely navigating modernization challenges
"The main challenge for us was that we were doing the modernization in an operating mill," says Günther Leitner, ANDRITZ Project Manager for the pulp drying plant. "Everything we did was alongside normal production."
"Since we were using an existing building, the layout is tighter than we would have preferred," explains Laaksonen. "But all the work was completed with no stops and no unusual breaks on the paper machine nearby – which was quite an accomplishment."
Pleasant surprises in the fiberlines
ANDRITZ technology was used to modernize parts of Kymi's softwood fiberline. There were also small improvements to the hardwood digester, according to Jouni Konsti, ANDRITZ Project Manager for the fiberline portion.
"The improvements were relatively small in terms of scope and cost, but the result has been quite a pleasant surprise," says Laaksonen of UPM. "We are achieving higher production with less rejects."
A unique swinging pulp dryer
The new pulp drying plant was the largest part of the investment. "Kymi demolished its old Rauma Repola dryer (installed in 1964) which had a maximum capacity of 500 t/d," says Jari Vetola, ANDRITZ Senior Sales Manager. "They were definitely limited in pulp drying capacity. With the ANDRITZ plant, Kymi can run a combination of hardwood and softwood to the maximum to keep production flowing smoothly."
"These daily swings from softwood to hardwood pulp are quite unique," Leitner confirms. "This requires our equipment to be quite flexible. There were some challenges in ramping up the plant, but that was mostly due to the very wide operating window that the mill requires, and not the fiber source itself."
A Finnish "good"
"We are Finns, so when we say something is 'good' that might mean more in another language," Laaksonen laughs. "The project was brought in on schedule, on budget, and safely. So, I would say this project with ANDRITZ has been very good."