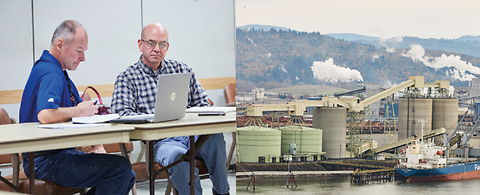 Tuesday
O7 NOVEMBER, 2017
Reynolds visits several pulp and paper companies regularly in Longview, Washington, USA. One of them is North Pacific Paper Corporation (NORPAC). Here he meets Nick Bush, Maintenance & Engineering Manager at the mill where discussions take place regarding a potential refining project. Meetings also take place at the mill with the thermo-mechanical pulping (TMP) team to talk about refining and screening.
Heading back home to Vancouver, just in time to take a clear day snapshot of the mill. Reynolds has a special affi nity with NORPAC – he has been associated with the mill in one way or another since its construction in 1978.
The rest of the day is spent writing reports on the customer visit to NORPAC as well as setting the wheels in motion with other ANDRITZ people on topics discussed at the mill. It is also time to pack for a mill visit road trip for the rest of the week!