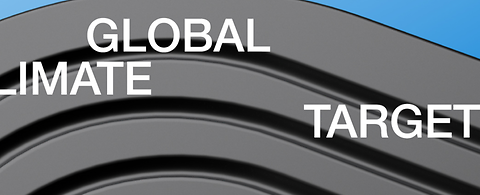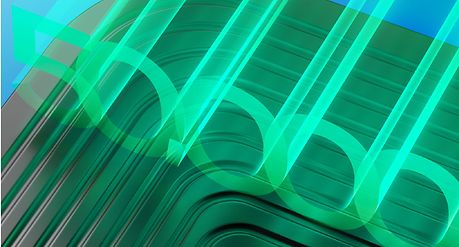 CHALLENGE
GLOBAL CLIMATE TARGETS WILL ONLY BE ACHIEVED
if CO2-neutral drive technologies become firmly established. That is why fuel cells powered by green hydrogen are a very attractive option. However, fuel cell systems are still expensive today because there is no serial production on an industrial scale.
SOLUTION
50,000 FUEL CELLS A YEAR
Schuler, ANDRITZ Soutec and thyssenkrupp Automation Engineering have developed a production line that can produce up to 50,000 fuel cells a year. This reduces the product costs substantially due to economies of scale.
Hermann Uchtmann, responsible for business development on e-mobility topics at Schuler, and Thomas Kuschel, Head of Fuel Cell Solutions at thyssenkrupp Automation Engineering, are the driving forces behind this collaboration. In the following interview, they explain how this alliance came about, what is so special about their production line and what they expect from the technology in the future.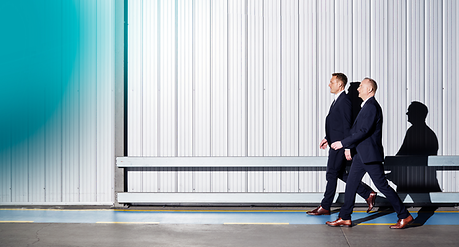 Hermann Uchtmann is responsible for business development on e-mobility topics at Schuler.
Fuel cells provided the electricity for the Apollo missions to the moon back in the 1960s. Today, they are seen as an essential future energy supplier because the invention is simple, ingenious and environmentally friendly: A fuel – for example hydrogen – reacts in a cell with an oxidizing agent, such as oxygen. The process produces nothing but water, heat, and, of course, electricity, which can be utilized.
Fuel cells are already being used for stationary or mobile power generation. The numbers produced are still low because the manufacturing costs are high. This, in turn, curbs the demand. Schuler and ANDRITZ Soutec together with thyssenkrupp Automation Engineering sought a solution to this problem – and they found one.
Mr. Uchtmann, how did you come to embark on this project?
HU: I attended a fascinating presentation by Thomas Kuschel at a special event and approached him there. I had the feeling that it would be worthwhile working together on this topic because our companies each specialize in certain steps in the fuel cell production process and might just complement each other ideally. We got talking, found we were on the same wavelength, and quickly saw that it could actually work.
And what, exactly, could work, Mr. Kuschel?
TK: We pool our know-how in order to cover the entire value chain in a single plant. By producing the metallic bipolar plates on a large scale, assembling the fuel cell stacks and systems, and continuously testing the quality, we can offer customers everything from a single source. At the moment, we are in contact with potential customers for pilot plants who are interested in integrating the production line into their operations.
What is "a large scale" in figures?
TK: A fuel cell contains between 300 and 400 bipolar plates that are layered into so-called stacks. They form the heart – so to speak – of a fuel cell. We can produce up to 50,000 fuel cell stacks a year because our production line manufactures one bipolar plate per second and is thus up to ten times faster than other solutions available on the market, and it includes quality testing into the bargain.
Thomas Kuschel is responsible for all activities relating to the topic of fuel cells at thyssenkrupp Automation Engineering.

"OUR PLANT MANUFACTURES ONE BIPOLAR PLATE PER SECOND. THIS MAKES IT UP TO TEN TIMES FASTER THAN OTHER SOLUTIONS AVAILABLE ON THE MARKET".
Why is your production line so much faster than others?
HU: Because we defined our interfaces clearly right from the start – in the design and planning phases. If you don't do this, but simply piece different plants and components together, there are almost always friction losses and difficulties in operation. Our entire system fits together perfectly and thus is very efficient.
Can you describe in more detail how tasks have been divided?
HU: Schuler is responsible for high-precision forming of the stainless steel sheets, which, by the way, are only 70 to 100 microns thick, roughly the thickness of a human hair. Both halves of the bipolar plates are produced in one press stroke. Then they are welded together with a precise, gas-tight weld in an ANDRITZ Soutec system using laser technology.
FUEL CELLS: CONSIDERABLE MARKET GROWTH EXPECTED
The management consulting company McKinsey expects that the international market volume for fuel cells in the mobility sector will be around 13 billion US dollars in 2030. The main reason for the forecast annual increase of 32-45%: more trucks being produced in China and Europe as well as announcements by Asian vehicle manufacturers that they will be offering almost 40 new fuel cell vehicles on the Japanese and South Korean markets as from 2025.
Source: McKinsey team analysis; Hydrogen Council
Graph: in billion US dollars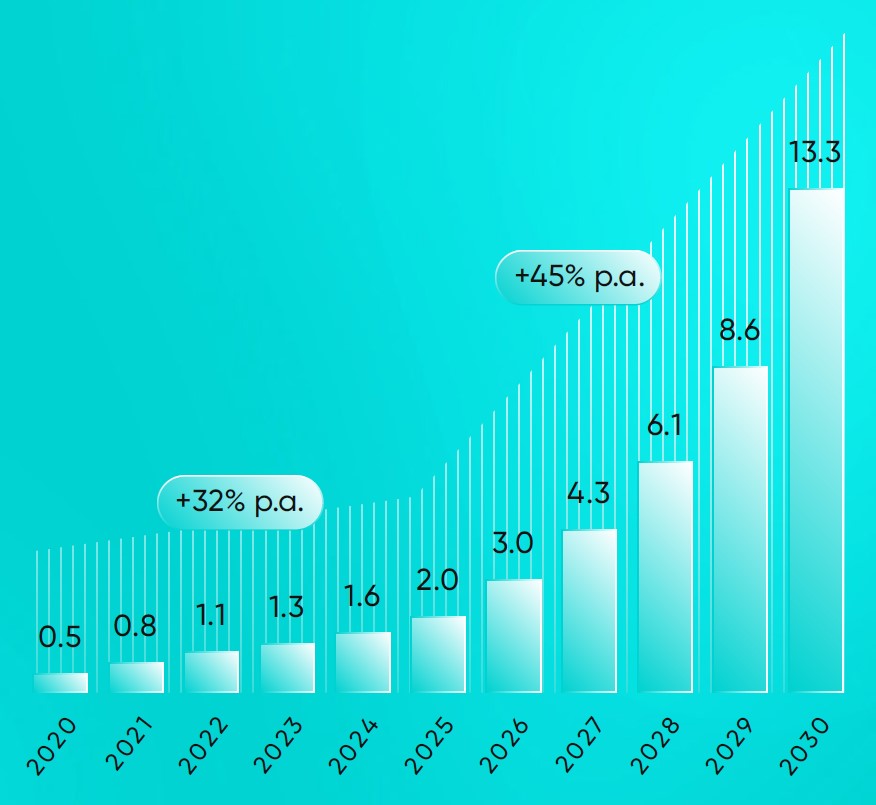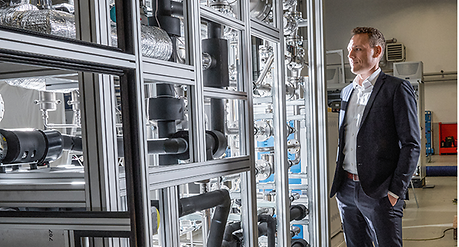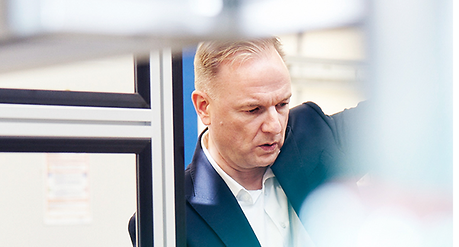 TK: In one of our process steps, seals are then applied to either side of the bipolar plates, dried and subjected to a visual quality check. In addition, we provide production line components for manufacturing membrane electrode assemblies (MEA) and building the final fuel cell power stacks. There is also a final, automatic quality check here by an optical system.
How do you think the market will develop? Will there be more demand for fuel cells?
TK: We have already built smaller production lines or production line sections for a number of customers. And the global trend is clear in my view: There is enormous interest in hydrogen technology, for trucks, buses and trains, shipping, aircraft, and for combined heat and power systems for buildings for example, because it focuses on covering energy needs while at the same time reducing CO2 emissions sustainably.
HU: Fuel cells are one of the pillars of the future energy supply – many surveys and market analyses have confirmed this. It is very likely that this technology will become more widespread in the medium to long term. In Asia, for example, there are already a number of vehicles powered by fuel cells, and European OEMs have also announced serial vehicle production. With our new production line, we are proving that serial production is possible on a large scale at the highest quality level. An effective signal that it is worthwhile investing more in this technology.
TK: We are also investigating the next step: Our production lines should be able to produce up to 500,000 fuel cells a year in just a few years' time. Let the future begin!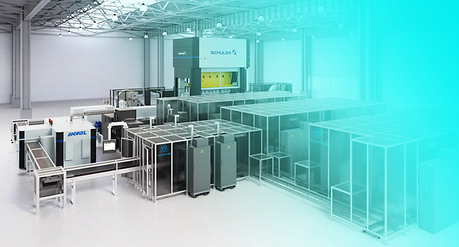 TALKING TECH: CLIMATE-NEUTRAL ENERGY SUPPLY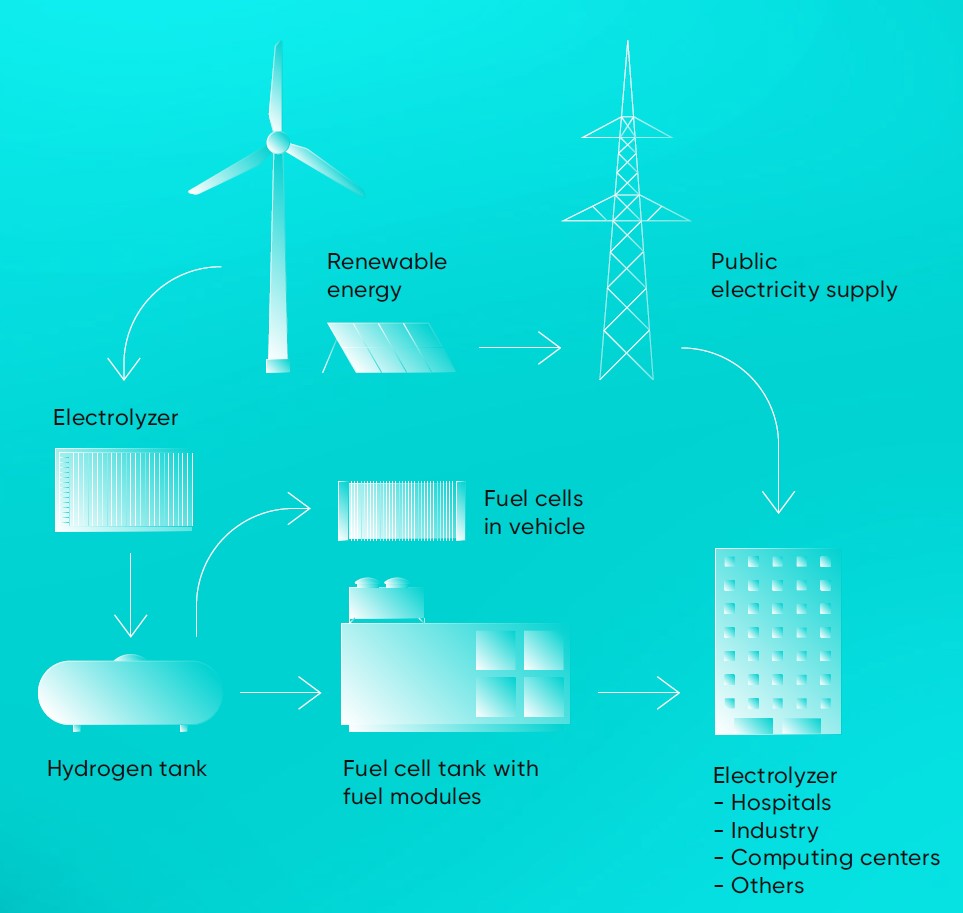 Fuel cell systems are an excellent means of storing surplus green energy generated by wind power, photovoltaics or other renewable energy sources. In the first step, the power is split into hydrogen and oxygen in an electrolyzer. The green hydrogen released is free of CO2 and can then be used as a sustainable energy supply in fuel cells for trucks, aircraft, cars, and maritime vessels as well as an emergency power supply for hospitals or data centers.
Read more success stories ...