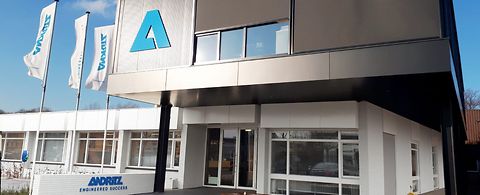 ANDRITZ Feed and Biofuel B.V., Geldrop, The Netherlands
ANDRITZ Feed and Biofuel in the Netherlands specializes in the replacement industry and manufactures dies and rolls for pellet mills as well as spare and wear parts for equipment for the animal feed and biomass pelleting industries.
In addition, we offer several repair and aftermarket services to our customers. The office is located at the De Spaarpot industrial area in Geldrop and has approximately 125 qualified and skilled employees.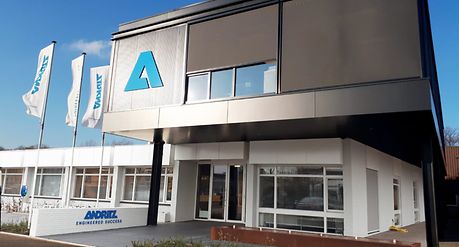 Manufacturing facilities – production of dies and roll shells and replacement parts
The 14,000 m² manufacturing facility processes five thousand tons of steel every year. This steel is turned into dies and rolls for pellet mills that are sold and distributed all over the world. Spare and wear parts are manufactured by ANDRITZ or its long term partners.
Download our quality policy to learn more about  our production process.
Products
Dies and roll shells for pellet mills for pelleting of feed, biomass, waste disposal, and fertilizer
Spare and wear parts for all machines in the pelleting process, both OEM and non-OEM: hammers, hammer pins, screens, paddles, etc.
Rolls
Experience and knowledge in the replacement industry
ANDRITZ has a solid reputation and is one of the biggest leaders in a global niche market: manufacturing and repairs of large steel dies. Despite the fact that pellet die production concerns a fully automated manufacturing process, it is still a matter of customization. The end product depends on the customer's needs and is realized in collaboration with in-house experts and with the ultimate application of the die. We do everything within our power to keep our customers happy. We aim for an organisation that realises maximum customer satisfaction at minimum costs. In other words: we continuously aim to be the best in each branch of the industry. Each year, we invest in top-level automation in combination with a lean manufacturing process and high production levels. Thus, we remain a market leader in the replacement industry.
Service and repair center
We have a service center that offers in-house repairs of general equipment and roll refurbishment as well as field service. As for the service, we keep a wide range of OEM inner works on stock,  so we can respond swiftly, when there is a need for a replacement interwork somewhere in the world. From our Geldrop office, we supply consumables all over the world and we are supported by a web of agents so that in every corner of the world, we have a contact for our customers.
ANDRITZ FEED & BIOFUEL B.V. | Geldrop