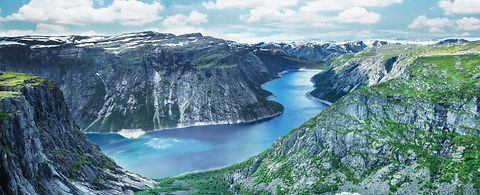 ANDRITZ Hydro divisions in Brazil
Located in the state of São Paulo, we offer complete solutions for the implementation and modernization of large, medium and small hydroelectric plants, with cutting-edge technology in the various areas of knowledge, products and services, in addition to offering solutions for pumping systems for industry, irrigation, water supply and flood control.
Large Hydroelectric Plants
ANDRITZ Hydro is able to assist its clients and consultants in the selection of the best project configuration since the beginning of the studies. It offers complete electromechanical solutions, with performance levels guaranteed by internal developments and experience of the technical staff, supported by hydraulic laboratories and internal manufacturing of main components.
3D CAD systems are used to design the components, which provide a real view of the components in three dimensions, serve the purpose of complete maintenance and complement the safety requirements. To guarantee the reliability and safety of equipment and systems, ANDRITZ Hydro uses highly sophisticated methods in the execution of electromechanical calculations, including detailed investigation of the electromagnetic characteristics to ensure high efficiency of the generators.
Modernization and Renovation
The definition of modernization of hydroelectric plants covers a very wide field of activities, which may be a renovation, replacement of some components and even a complete replacement with more modern equipment.
The main objective of a modernization is to increase the return on investment through:
Increased availability and reliability
Operational problems solutions
O&M cost reduction
Reduction of environmental impacts
Increased lifespan and safety
Increased energy production
Changes in operation management
Restoration of the plant's original capacity
Renewal for measurements and remote controls
Automation
The focus is to have the technological leadership developing products for control systems, excitation systems, protection systems and speed regulation systems, being a global supplier of solutions for Plant Automation.
The strong market presence and competitiveness of the solutions presented makes ANDRITZ Hydro Automation the world leader in the Hydroelectric Power Plant Automation market. In its global organization, the following stand out: the center of competence and research and development in Vienna (Austria), as well as the attention in autonomous local units and close to customers, aiming to meet the specific needs and demands of each region.
The mission of understanding and meeting customer needs ensures satisfaction, based on deliveries aligned to their expectations, creating an environment of fair and reliable long-term relationships.
ANDRITZ Hydro's experience in developing Automation solutions with different levels of complexity, both for new plants, as well as for the modernization of existing plants, can be proven with its participation in several projects, especially in the main generation projects hydroelectric power in Brazil in recent years: such as the Santo Antônio, Belo Monte, Sinop, Itá, Machadinho, Barra Grande and Campos Novos plants.
Electric Power Systems
Completing the philosophy from water to wire, ANDRITZ Hydro also offers complete solutions for all auxiliary systems in the mechanical and electrical disciplines in low, medium and high voltage. The project and the complete integration of the systems are elaborated, offering the customer the supply in the turn key mode of the plant's auxiliary systems.
The great know-how in the area of ​​systems design and supply combines ANDRITZ's century-old experience with its global presence, with complete engineering teams in several locations, in addition to Brazil, such as in India and China and its central organization in Vienna, Austria. In addition to project development, the engineering team is able to conduct technical studies in the areas of power, transients, insulation and other areas of knowledge in the application of engineering solutions for hydroelectric plants.
Hydromechanical Structures and Equipment
ANDRITZ Hydro also supplies all types of hydromechanical equipment for dams, spillways, adduction, restitution, river diversion, bottom unloaders and locks, with emphasis on the following equipment: Coffer gates, Wagon gates, Segment gates, Drawer gates, Tilting gates, Lock doors, Pipes, Shielding. Bi / Trifurcations, Grids, Butterfly Valves, Ball Valves and Dispersing Valves.
Centrifugal Pumps
ANDRITZ supplies pumps that meet the demand for ever-increasing and high-performance equipment, whether for low flow rates or wear-resistant applications. Depending on the application, ANDRITZ develops, produces, tests and supplies standard pumps and customized pumps. The pumps designed by ANDRITZ operate worldwide in large infrastructure projects for irrigation, drainage, desalination, flood control and for the supply of drinking and industrial water. 
Turbo Generators
The heart of an open cycle combined gas plant is a high-performance turbo generator. ANDRITZ is one of the main suppliers of air-cooled turbo generators, which meet the most demanding specifications and technical requirements.