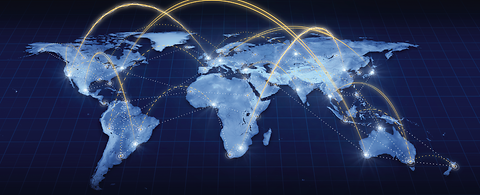 Mechanical and electrical hydropower products manufactured at ANDRITZ Hydro in Morelia
ANDRITZ Hydro provides a wide variety of different turbine types (Pelton - for high head applications and large output over, Francis - for the medium net head range and large output up to 800 MW per unit and Kaplan - for low head operation with small unit output), valves (Butterfly and Spherical), electrical components as turbine governors, excitation system and ACP. ANDRITZ Hydro in Mexico is also improving the new business area Small Service – spare part and services.
Turbines
Francis turbines
Francis turbines are characterized by incomparable longevity, durability, reliability, and robustness and are available in varying configurations, horizontal or vertical, with flexibility in design to ensure best efficiency and reliability of operation under the most extreme conditions
The Francis turbine is an inward reaction turbine that combines radial and axial flow concepts. It is the most common water turbine in use today, are ideally suited for energy applications with a medium head of up to 700m and an output of up to 800 MW per unit.
Pelton turbines
Pelton runner is an impulse type water turbine, extracting energy from the impulse of the moving water. The water is directed with high speed through nozzles against the buckets, arranged around the circumferential rim of a drive wheel – the runner. The shaft design can be either in horizontal position in combination with one or two nozzles per runner, or in vertical position with up to six nozzles per runner.
ANDRITZ Hydro manufactured different methods for Pelton runners.
Fully forged: The buckets are manufactured out of the runner disk.
HIWELDTM: Cast or forged bucket parts are welded onto the disk.
MicroGussTM: The buckets are overlay-welded onto the forged disk.
Kaplan turbines
Kaplan turbine is a propeller type water turbine with 4 to 7 adjustable blades that are moveable, allowing to adjust the water discharge and turbine output. It is an outward reaction turbine, resulting in a changed water pressure as the water moves through the turbine and gives up its energy. The runner consists of the stainless steel runner blades mounted on the runner hub and the runner cap at the lower side of the hub, enhancing the optimized hydraulic shape.
Valves
Butterfly valves
Butterfly valves up to a diameter of 6,000 mm and design pressure of 64 bar are equipped with either a lens type or a lattice door (through-flow) type. They are operated by oil hydraulic systems for opening and closing, or by closing weight and hydraulic pressure for opening.
Spherical valves
Spherical valves up to a diameter of 3,300 mm and design pressure of 200 bar, has a minimum head loss due to a completely free through-flow. They are usually installed as high-pressure turbine inlet and pump valves and equipped with controlled service and maintenance sealing. The control system is operated by oil-hydraulic pressure, or by the water pressure system.
Turbine governor
The turbine governor is the essential part of the hydraulic power unit for efficient conversion of hydraulic energy to electric energy.
The digital turbine governor gets by with the functional requirements of the client because of a scalable and modular solution. It can be implemented as stand-alone solution or as integrated part of the existing structure. Preceding simulations and stability studies ensure stable and reliable control.
ANDRITZ Hydro offers complete oil hydraulic power unit (HPU) packages including sump tank, pumps, control and main relay valves, filters, monitoring devices, and pressure accumulators. The standard concept has a modular design with use of reliable industrial components and design pressure up to 250 bar.
Excitation system
The excitation system of a synchronous generator makes it possible to supply the energy generated by an engine (turbine) to the power grid. As a result, high priority is assigned to the reliability and availability of excitation equipment when choosing systems.
Excitation systems stand for high availability as well as efficiency, robustness, high MTBF time, and a lifetime of about 30 years or more.
Types of THYNE excitation systems:
THYNE1 (for small generators with or without exciter machines, up to 30 A field current)
THYNE400 (for generators with exciter machines, up to 400 A field current)
THYNE500 (static excitation for generators with slip rings, up to 200 A field current)
THYNE600 (static excitation for generators with slip rings, up to 10000 A field current)
Control & protection system
The ACP (Automation, Control and Protection) system concept of the SICAM product family provides high functionality and flexibility for different automation tasks, (control of auxiliary functions, start/stop sequences, monitoring and control of external services, Communication to remote stations and control centers).
Balanced functionality enables the flexible combination of automation, telecontrol and communication tasks. Supplemented by the scalable performance and various redundancy configurations, optimum adaptation to the respective process requirements can be achieved. All engineering activities, up to system diagnoses and online tests, can also be performed remotely with the TOOLBOX II.
Generators
Diagnostic services, maintenance and repairs to generators of hydroelectric power plants mainly. The objective is to know the current state of each of them to provide the necessary support in required jobs and services.
Small Services
Supply of products (spare parts which does not need a deep involvement of engineering) and services (maintenance, field services, emergency support and training) with low technical or commercial complexity according with the needed of customers.