Dariali - Next important step in the hydropower market of Georgia
In October 2013 ANDRITZ HYDRO signed a contract with DARIALI JSC for building the Dariali hydropower plant.
This agreement constitutes a significant milestone in entering into the Georgian hydropower market.

Georgia is designated as one of the most attractive future markets for hydropower. This is based on three facts: the rapid economic growth and general economic liberalization, the proximity of the Turkish electricity market and the fact, that only 25% of the feasible technical potential of about 30 TWh per year has been developed.

To use this potential, the special purpose company DARIALI JSC was founded by Georgian based construction company Peri ltd., the state-owned development institution the JSC Georgian Energy Development Fund (GEDF) and the US based tunnel drilling machine producer Robbins.

HPP Dariali is located at an altitude of 2,400 m at the Tergi River in Qazbegi district, near the city of Stepantsminda in northern Georgia.

The landscape is characterized by high mountains and deep valleys, which is typical for the Caucasus region. The capacity of the project is 108 MW and the annual electrical energy generation is estimated at 500 GWh. Around 70% of the generated electricity will be produced during summer months (May – October).

The Dariali hydropower plant is constructed with a 2 km open channel and a 5.6 km headrace tunnel (diameter 5.5 m) to supply water flow to the powerhouse on the right bank of the river. The scope of supply and services consists of engineering, supply of three 37 MW vertical Pelton turbines and three 43 MVA generators including auxiliaries, installation and commissioning. The net head is estimated at 371 m with rated water discharge of 33 m³/sec.

The award-winning and most challenging element of this project is the short duration of only 23 months from the acceptance of the order until hand over of the last unit. This requires top performance in manufacturing, logistics and project management.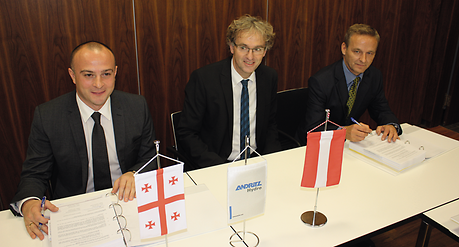 TECHNICAL DATA
| | |
| --- | --- |
| Output: | 3 x 37 MW/3 x 43 MVA                |
| Voltage: | 13.8 kV |
| Head: | 371 m |
| Speed: | 375 rpm |
| Runner diameter: | 2,100 mm |