Iovskaya - First unit successfully handed over in Russia
In July 2011 ANDRITZ HYDRO signed a contract with Kolsky Branch of JSC TGK-1 (Regional Utility - Territorialnaya Generiruyushchaya Kompaniya No 1) for the modernization of the Iovskaya hydropower plant in Russia (Hydro News 23).
HPP Iovskaya is part of the Nivskiy Cascade in the Murmansk oblast and is located on the edge of the Arctic Circle.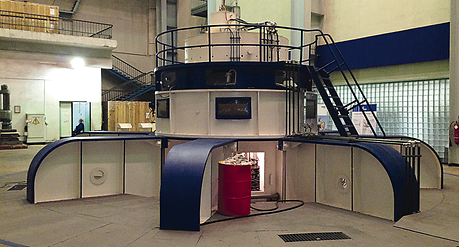 The reservoir spans an area of 5,240 km2. It is fed by the Kowda River close to the Finnish border. HPP Iovskaya is the second hydropower plant of the Kovdinsky Cascade and was commissioned in 1960.

ANDRITZ HYDRO's scope of supply includes two double regulated Kaplan turbines with seven runner blades, automation (control, protection, excitation and governor), a new generator winding as well as the renewal of the balance of plant equipment.

In order to improve cavitation behavior, to reduce the tremendous vibrations and to increase the turbine output, the runner diameter of the new turbine needed to be increased from 4,500 mm to 4,600 mm. That all targets were reached could be demonstrated to our client during the first month of operation.

The complexity of the rehabilitation works was challenging, with ANDRITZ HYDRO being responsible as a general contractor on a "turn-key basis". This task required a lot of coordination work between the client, the design institute, the installation company and a number of different ANDRITZ HYDRO locations involved in this project. Another challenge was the remote location of HPP Iovskaya, with harsh and biting climatic conditions.

The first unit was successfully synchronized and the load tests were performed to the full satisfaction of the customer at ambient temperatures of up to -20 °C.

In December 2013, the 72-hour test run of the first unit was successfully finished and the Taking Over Certificate (TOC) was signed by representatives of TGK-1 and ANDRITZ HYDRO in an on-site ceremony.

In January 2014 the official inauguration took place, attended by regional press and local politicians, management of the TGK-1 Kola branch, suppliers and TGK-1 power plant team.

Simultaneously, after 20 years of operation, unit 2 was taken out of service and disassembly work commenced. Handover of this second modernized unit is scheduled for September 2014.

TECHNICAL DATA
| | |
| --- | --- |
| Output: | 2 x 50 MW |
| Head: | 32 m |
| Speed: |           136.36 rpm                 |
| Runner diameter: | 4,600 mm |