Switzerland - Russein
In 2013 Axpo AG awarded a contract to ANDRITZ HYDRO for the supply of electromechanical equipment for HPP Russein.
After 67 years of operation HPP Russein (built in 1946/47) will be extended.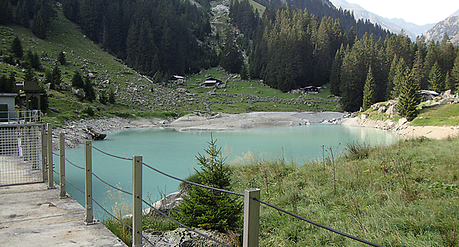 The hydropower plant is located between the towns of Disentis and Sedrun in the canton of Grisons, in southeastern Switzerland. The Russein creek runs on the left-hand side of the Rhine River. Between the dam reservoir Barcuns and the electrical power station the creek's resources are used to produce energy.

Axpo Hydro Surselva AG, together with the communities of Sumvigt and Disentis as well as the canton of Grisons are involved in this project. ANDRITZ HYDRO's scope of supply includes the delivery, erection and commissioning of two 12.1 MW vertical six-jet Pelton turbines, including turbine governor, cooling water system, bifurcation pipe, DN800/PN50 ball valve (Adams) and a 13.5 MVA generator. The extension will increase the water flow from 4m3/s to 7m3/s. Furthermore, the height of the existing dam, located at Barcuns, shall be elevated by 5 m and the penstock will be renewed at the same time. After realization of this project the output will be increased from 11.6 MW to 24.2 MW.

This project represents a further step in the implementation of renewable energy supply. About 17,000 households will benefit from renewable energy after the inauguration, due in spring 2015.

TECHNICAL DATA
| | |
| --- | --- |
| Output: | 2 x 12.1 MW/2 x 13.5 MVA       |
| Voltage: | 6.3 kV |
| Head: | 392 m |
| Speed: | 750 rpm |
| Runner diameter: | 1,045 mm |