Upper Tamakoshi - Electromechanical equipment for the largest hydropower project in Nepal
In February 2012, ANDRITZ HYDRO signed a contract with Upper Tamakoshi Hydro Power Limited in Nepal, a subsidiary company of the Nepal Electricity Authority, for developing and managing the 456 MW HPP Upper Tamakoshi.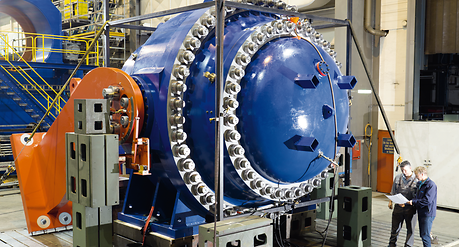 HPP Upper Tamakoshi is the largest hydroelectric project in Nepal. It is located in the Dolakha District, 197 km east of the capital Kathmandu.

The project was conceived as a peaking run-of-river project with an 822 m gross head, a design discharge of 66 m3/s and an installed capacity of 456 MW.

The major components of this project are the intake, a 22 m high concrete dam, twin de-sanding basins, a 7.86 km long headrace tunnel, a 360 m high surge shaft, a 495 m long penstock pipe, an underground powerhouse with six Pelton turbines, a 2.9 km long tailrace tunnel, and a 47 km long 220 kV transmission line to Khimti substation.

ANDRITZ HYDRO's scope of supply includes the design, manufacturing, supply, erection, testing, and commissioning of the complete electromechanical equipment, including a 220 kV GIS and the mechanical balance of plant equipment.

The Upper Tamakoshi hydropower plant also has a 2.5 m, 85.6 bar pressure rating, 170 tons spherical valve as the main shut-off valve. This is one of the largest spherical valves (P x D factor) manufactured by ANDRITZ HYDRO.

Because of heavy contractual penalties the project is very challenging. Another challenge is the transportation of consignments to the site on weak infrastructure such as poor roads and bridges, as well as manufacturing and supplying of the spherical main shut-off valve.

Recently, ANDRITZ HYDRO commissioned powerhouse crane number one and is executing the installation works of mechanical equipment from unit #1 through unit #6.

TECHNICAL DATA
| | |
| --- | --- |
| Output: | 6 x 76.5 MW / 90 MVA                                    |
| Voltage: | 11 kV |
| Head: | 805 m (rated) |
| Speed: | 600 rpm |
| Runner diameter: | 1,944 mm |
| Step-up transformers: |   |
| Output: | 19 x 30 MVA |
| Voltage: | 11 kV / 220 kV |
| Main shut off valve: |   |
| Diameter nominal: | 2,500 mm |
| Pressure: | 85.6 bar |