Ruacana - Installation starts on site in Namibia
HPP Ruacana is situated on the Kunene River, representing the border between Angola and Namibia.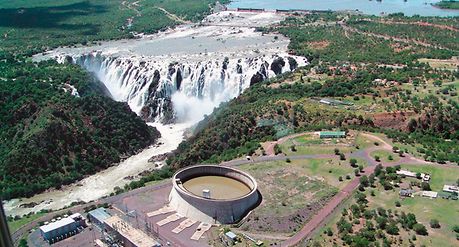 Originally commissioned in 1978, the underground power plant consists of three Francis turbines with a total installed capacity of 240 MW. The initial plant was designed and prepared for the installation of a fourth unit, successfully supplied by ANDRITZ HYDRO a few years ago.
After more than 33 years of operation, NamPower decided in 2013 to refurbish the turbines (unit #1 to #3) at Ruacana underground power plant. Therefore, ANDRITZ HYDRO was awarded a contract for improving the hydraulic per-formance of the runners in terms of efficiency, maximum power output, and vibrational behaviors in part load operation.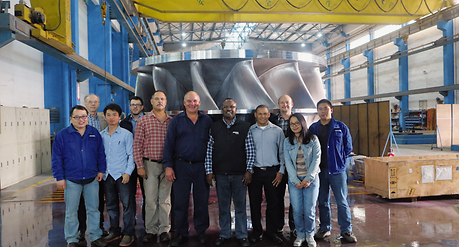 Based on the open cooperation during the project, ANDRITZ HYDRO was approved to manufacture the runners at its location in Foshan, China. The highly motivated team in Foshan delivered excellent quality ahead of schedule.
ANDRITZ AG Graz, Austria, supplied bottom, discharge and wearing rings, which came on time with proven quality and confirmed by customer factory acceptance tests.
Currently, an ANDRITZ HYDRO installation supervisor is supporting NamPower to complete the refurbishment at the Ruacana hydropower plant by end of the year 2014.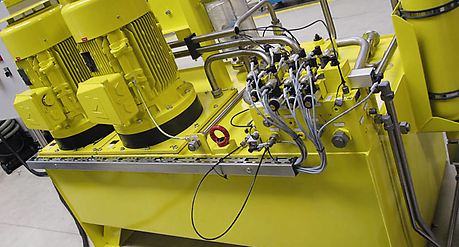 TECHNICAL DATA
| | |
| --- | --- |
| Unit #1 – #3: | |
| Output: | 87 MW |
| Head (rated): | 134 m |
| Speed: | 230.8 rpm |
| Runner diameter: | 2,840 mm                             |
| Unit #4: | |
| Output: | 92 MW |
| Head (rated): | 131 m |
| Speed: | 272.7 rpm |
| Runner diameter: | 2,691 mm |