Chaudière Falls, Canada
ANDRITZ HYDRO was awarded a contract by Chaudière Hydro LP. (owned by Hydro Ottawa) for supplying the complete Water-to-wire equipment for one hydropower plant at Chaudière Falls in August 2014.
The Ottawa River has always played a key role in the development of Canada. Since the commissioning of the first generating station at Chaudière Falls in 1891, the Ottawa River has become a major source of renewable electrical energy production with some 2,300 MW of hydropower capacity installed at 12 hydropower plants along its length.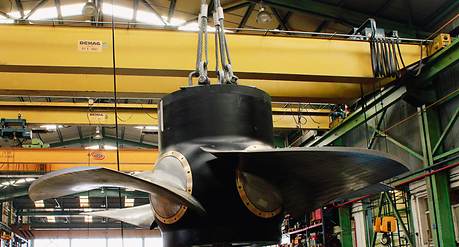 Over the years, seven generating stations at the Chaudière Falls location have been built by different companies. Hydro Ottawa owned two of these hydropower stations. In 2012 the com-pany acquired three more stations as well as the remaining undeveloped water rights.
Hydro Ottawa will now redevelop the site by decommissioning two of the three acquired hydropower stations and building a new low-profile, run-of-river power plant. The four turbines with a nominal capacity of 8 MW will be the most powerful ECOBulb™ turbines delivered to date by ANDRITZ HYDRO.
HPP Chaudière Falls is located within the city limits of Ottawa, the capital of Canada. The site itself presents many challenges. Construction must take place without disturbing power generation or traffic circulation in the vicinity. The new facility must also be aesthetically pleasing, complimenting the urban and historical nature of the site and be welcoming to the public.
Once complete, the 29 MW facility will produce enough clean energy to power 20,000 homes.
TECHNICAL DATA
| | |
| --- | --- |
| Voltage: | 4 x 8 MW |
| Head: | 10.1 m |
| Speed: | 163.6 rpm |
| Runner diameter: | 3,350 mm |