Angostura
Commissioning of hydromechanical equipment in Chile
In March 2010, ANDRITZ HYDRO signed a contract with Colbún S.A. for supply, design and installation of hydromechanical equipment for the Angostura hydropower plant in Chile.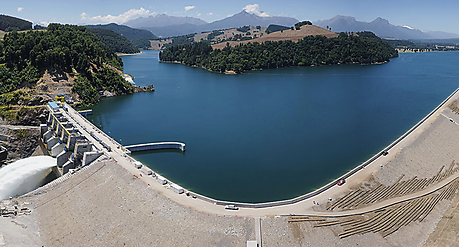 HPP Angostura is situated around 600 km south of the Chilean capital Santiago de Chile at the Bío Bío River. After HPP Ralco and HPP Pangue, it is the third hydropower plant in a cascade at this river, which makes it a hydropower plant with rather stable water level. HPP Angostura is the major hydroelectric plant under construction in Chile and has been in development since 2004. It has the largest power house in the country, equipped with three units representing a total installed capacity of 316 MW.
The scope of ANDRITZ HYDRO includes the design, manufacturing, supply, and installation of the complete hydromechanical equipment of the plant, which consists of six spillway radial gates, three intake roller gates, two draft tube roller gates, one bottom outlet gate, two diversion gates and six sets of stop logs, as well as hydraulic equipment and electrical equipment for two control buildings.
Teams from ANDRITZ HYDRO locations in Austria and Chile were involved in the HPP Angostura project. The design was provided by ANDRITZ HYDRO Austria (Linz and Vienna), the installation supervision was done by all parties involved.  Site management was carried out by ANDRITZ HYDRO Linz, local and staff matters were handled by ANDRITZ HYDRO Chile. During the peak of the installation phase, works at all five points installation points took place simultaneously.
In September 2013, a big contractual milestone was achieved with the filling of the reservoir. The Partial Acceptance Certificates (PAC) for the spillway and the intake were signed in January 2014, the certificates for the draft tube and the bottom outlet followed in February 2014. In May 2014 ANDRITZ HYDRO successfully finished all remaining installation and commissioning works, including demobilization of the site.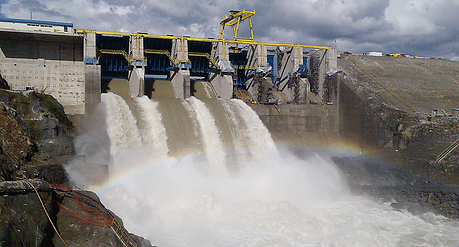 TECHNICAL DATA
| | |
| --- | --- |
| Radial Gate: | 13.20 m x 17.04 m |
| Intake Gate: | 4.75 m x 7.50 m |
| Bottom Outlet Gate: | 6 x 8 m |
| Diversion Gate: | 8.10 m x 16.60 m |
| Draft Tube Gate: | 4.50 m x 9.03 m |