Ayvali
Four new units for a hydropower plant in Turkey
In May 2012, Özdogan Enerji A.S. signed a contract with ANDRITZ HYDRO for the supply of an electromechanical Water-to-wire solution for the new Ayvali hydropower plant in Turkey. In August 2013, this contract was extended to include two COMPACT units using the obligatory residual water flow.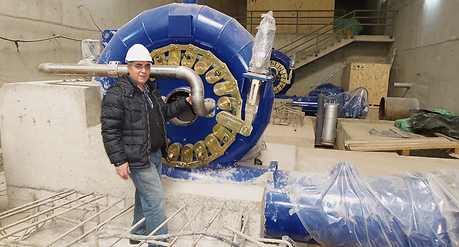 HPP Ayvali is located on the Oltu branch of the Çoruh River, in the province of Erzurum in northeastern Turkey, close to the border with Georgia. It features a roller compacted concrete (RCC) dam with a height of 177 m, a maximum dam reservoir of 308 million m³ and an installed capacity of 130 MW.
For the impoundment facility ANDRITZ HYDRO's scope comprises the complete electromechanical Water-to-wire solution, including two Francis turbines, generators, transformers, main inlet valves, the complete electrical equipment, all auxiliary systems, and two COMPACT HYDRO units. Furthermore, a 154 kV switchyard to connect the hydropower plant to the national electrical grid was delivered.
The project was executed by ANDRITZ HYDRO Austria in cooperation with ANDRITZ HYDRO Ankara, Turkey, which providing competence for the generator, turbine, and electrical power systems, as well as all installation activities on-site.
After the delivery of the components, which have been manufactured in Europe and Turkey, the installation of the electromechanical equipment started in 2014 in close cooperation with Özkar Insaat ve Tic. A.S, the customer's sister civil company. The impounding of the reservoir started by mid January 2015.
Depending on the water level, the commissioning and commercial operation of both Francis turbines are scheduled for mid 2015. The completion and commercial operation of the compact units will follow afterward.
This contract underlines again ANDRITZ HYDRO's leading position in the Turkish public and private hydropower market.
TECHNICAL DATA
| | |
| --- | --- |
| Francis units: |   |
| Output: | 2 x 65 MW / 2 x 76.5 MVA |
| Voltage: | 13.8 kV |
| Head: | 190 m |
| Speed: | 375 rpm |
| Runner diameter: | 1,950 mm |
| Compacts units: |   |
| Output: | 2 x 2.6 MW / 2 x 3 MVA |
| Voltage: | 6.3 kV |
| Head: | 115 m |
| Speed: | 1,000 rpm |
| Runner diameter: | 625 mm |