Ybbs-Persenbeug - First unit at Austrian run-of-river power station back on the grid
After about two years of project work and six months of downtime due to reconstruction, ANDRITZ HYDRO has completed the refurbishment of the first unit at hydropower plant Ybbs-Persenbeug, the oldest power plant on the Austrian stretch of the Danube River.
VERBUND, Austria's leading electricity company and one of the largest producers of electricity fom hydropower in Europe, has pledged 144 Mio. euros towards the refurbishment of the run-of-river power plant as part of "Project Ybbs 2020".
In October 2012, ANDRITZ HYDRO was awarded the contract for the revitalization of six vertical Kaplan units. A total of eight maintenance groups were involved in the reconstruction project. As a result, fulfilling the agreed work on schedule posed a huge challenge in terms of time and logistics, but in the end everything was successfully completed as contracted.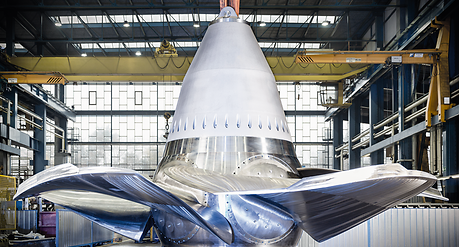 The purpose of the refurbishment was to increase the turbines' performance and efficiency and to improve their cavitation behavior. The new Kaplan runner was engineered using the latest flow simulation and optimization software. Based on a series of fully homologous model tests at the hydraulics laboratory, the engineers designed an optimized blade profile that satisfied all requirements.
As a result of the refurbishment the nominal output of the plant was raised from 32.2 MW to 35.4 MW. Measuring 7,400 mm in diameter, the new runner was completely assembled and balanced at ANDRITZ HYDRO's facilities in Graz, Austria. Another component, that was installed as part of the project, was the newly-manufactured self-pumping, self-lubricating guide bearing.
Due to the tight reconstruction schedule, the disassembly, and reassembly of the components was highly challenging – the generator itself consists of more than 250,000 individual parts.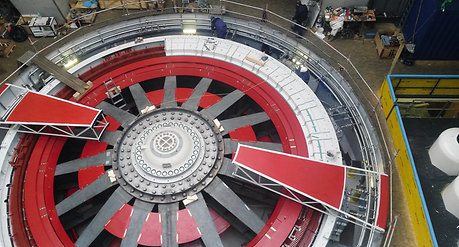 The 45 MVA generator received a new stator, core and winding, rotor poles, a heat exchanger, and a machine fan. In addition, the machine unit was equipped with a carbon dust extractor system. The existing discharge ring was repaired by extensive rust-proof welding and manual polishing covering a total area of 32.8 m2. Reusable components were refurbished and tested, with the anti-corrosion coating being replaced as necessary. The existing SICAM automation and control system was adapted, and its control functions and interface to the superior automation and control system were greatly extended. The reconstruction of the first unit allowed an increase of the annual energy production by around 10 GWh, thus ensuring the supply of electrical energy to more than 2,800 additional households.
The successful commissioning and handover of the first unit marks the achievement of another important milestone of the revitalization project "Ybbs 2020". Once the project is complete, additional 77 GWh of electrical energy will be generated from renewable hydropower, which constitutes a significant contribution to sustainable, CO2-free energy production.
Technical data
| | |
| --- | --- |
| Output: | 35,4 MW / 45 MVA |
| Head: | 10.6 m |
| Speed: | 68.2 rpm |
| Runner diameter: | 7,400 mm |