Hemicycle Controls Inc. - The automation specialist in Canada
Hemicycle Controls Inc., based in Chambly, Canada, is a supplier of hydro automation systems and expert in controls, protection, SCADA systems, generator excitation, and turbine speed governors.
Hemicycle also integrates medium voltage switchgear and station services equipment as part of its supplies.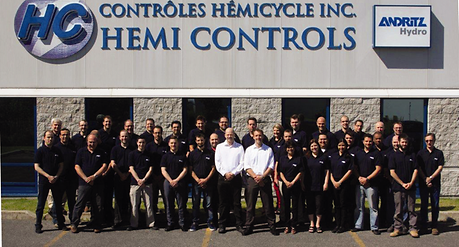 In tune with a growing demand and an evolving market, Hemicycle was acquired by ANDRITZ HYDRO in 2011 as part of a strategic focus on expanding automation products and services capability in the North American market. With beginning of 2016 Hemicycle Controls Inc. will be fully integrated into ANDRITZ HYDRO Canada Inc.
Product range
The offered services for above mentioned products range from complete detailed design with documentation and software development to manufacturing, testing, site installation, commissioning and training. The synergy created through this integration with the added value of ANDRITZ HYDRO state-of-the-art technology products is proving successful for the customers.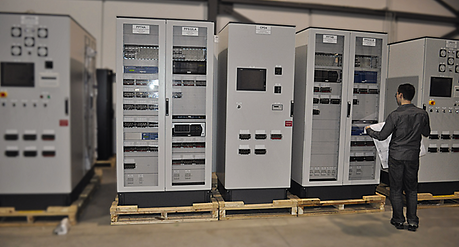 Current projects in Canada
For the new 209 MW Muskrat Falls hydropower plant Hemicycle's scope of delivery includes controls, protection, SCADA, governors, exciters and EPS equipment for four units and gates (see Hydro News 23).
While new North American hydropower developments are constrained in the current economic climate and by low energy prices, there is a potent market for rehabilitation. This is an opportunity where Hemicycle together with the entire ANDRITZ HYDRO portfolio of product and services comes into play to serve the client's needs, either on specific component demands or on a wide project scope.
Furthermore, in the Canadian rehabilitation market, Hemicycle is working on a variety of projects including also static exciters and speed governors for clients such as Ontario Power Generation and Hydro Quebec.
For the Canadian small hydro market Hemicycle is supplying electrical equipment for hydropower plants like Upper Lillooet, Boulder Creek, New Post Creek and Chaudière Falls.
The projects gained and results achieved so far are attributable to the worldwide commitment of technologically-minded ANDRITZ HYDRO teams. With the additional capacity of Hemicycle and a potent market, ANDRITZ HYDRO is looking forward to future projects.