Manic-5, Canada
In June 2016, ANDRITZ HYDRO received a contract from Hydro-Québec for the rehabilitation of turbine spherical inlet valves at the Manic-5 hydropower plant in the administrative region of Côte-Nord in Québec.
HPP Manic-5 is situated on the Mani­couagan River at the Daniel-Johnson Dam. With a height of 214 m, a length of 1,314 m, and 2,200,000 m3 of concrete, Daniel-Johnson Dam is the highest multiple-arch-and-buttress dam in the world.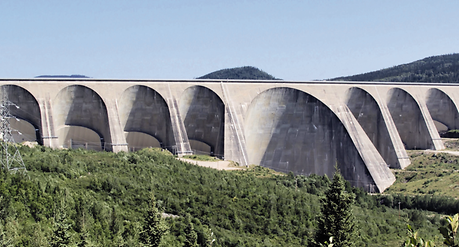 ANDRITZ HYDRO is very familiar with the project, since the company was the Original Equipment Manufacturer (OEM) of the valves back in the 1970s. The current contractual scope comprises engi­neering, supply, dismantling, refurbishment, and reassembly of the valves of six out of eight units at a rhythm of two per year. The scope of work also includes new electrical and hydraulic control panels, instrumentation, piping and platforms, as well as refurbishment of servomotors and levers. An anti-auto-oscillation hydraulic control system will also be provided preventing oscillation phenomena. In order to eliminate the old greasing system, self-lubricating bearings will be supplied to replace the old bronze bushings. The project, including all engineering activities, is being managed by ANDRITZ HYDRO Canada.

Works on the first two units at site will start in March 2017. A very challenging aspect of the project is that the valves cannot be removed from site or brought to a workshop for refurbishment works. The site set-up does not allow it as there is not enough access space outside the valve gallery and the overhead crane does not have the necessary lifting capacity. For the same reason, the valves cannot be completely dismantled. Much of the refurbishment work, including inspections, grinding, welding, machining, and painting, has to be done on-site directly in the valve gallery.
Following commissioning of the last two units completion of the contract is scheduled for October 2019.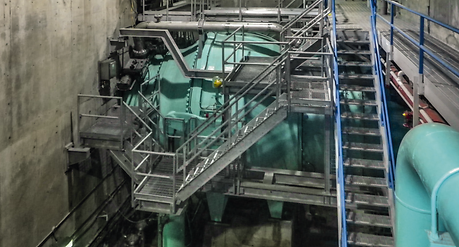 TECHNICAL DATA
| | |
| --- | --- |
| Output | 1,528 MW |
| Head | 142 m |
| Valve nominal pressure | 15.2 bars |
| Valve nominal diameter | 3,658 mm |