Latest news on Aratiatia, New Zealand
ANDRITZ Commissions 1st Unit at Aratiatia
On 27th June 2018, the first replacement 35 MVA generator and refurbished turbine at Mercury's Aratiatia Hydro Power Station was commissioned and returned to commercial operation, six days ahead of agreed contract schedule.
ANDRITZ was contracted by Mercury for the supply and installation of three replacement 35 MVA generators and governors, and one turbine in late 2015.  Subsequently, ANDRITZ was further engaged to complete overhaul works on the retained equipment on the first unit.
The equipment for the upgrade was coordinated from a number of ANDRITZ locations around the world. The upgrade involved the transport of several 100 tons of equipment to the site, located on the Waikato River near Taupo, New Zealand.  The largest delivered single piece was the generator rotor, which weighed 90 tons and was 6.5 m diameter.  A removable section of the wall beside the powerhouse door has been specially designed to allow delivery inside the powerhouse onto the loading bay.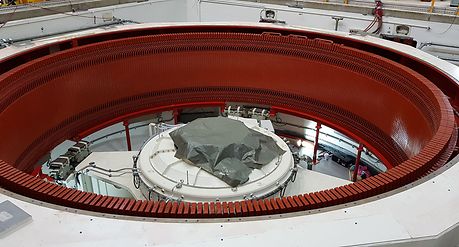 ANDRITZ implemented the works on site using their local New Zealand service team and a number of subcontractors and suppliers from the local Waikato region.
The refurbishment of HPP Aratiatia forms part of the overall Mercury hydropower asset refurbishment program, which ANDRITZ is pleased to support with high quality products including governors, turbines and generators. Mercury's Lead Engineer on this project Paul Betschart had this to say about ANDRITZ' performance, "The quality of the new generator and governor items supplied for the first Aratiatia unit is excellent, the installation and refurbishment work undertaken by ANDRITZ was delivered to a high quality standard, Mercury is looking forward to continuing to develop our working relationship with ANDRITZ on the 2nd and 3rd Aratiatia units".
ANDRITZ is delighted to be involved with this renewal project, and the improved, modern equipment will now continue to supply reliable renewable energy to the New Zealand grid for many years to come.
TECHNICAL DATA
| | | |
| --- | --- | --- |
| Total output: |   3 x 36 MVA | |
| Voltage: |   11 kV | |
| Speed: |   136,4 rpm | |
| | | |
| | | |
More pictures on the Aratiata project