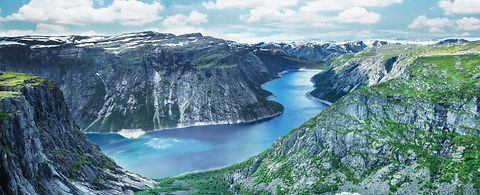 USA, Olmsted
ANDRITZ HYDRO was contracted by Utah Water Conservancy District (CUWCD) to provide two turbine-generator units, including auxiliary mechanical equipment and electrical controls, for the new Olmsted powerhouse.
The existing Olmsted hydropower plant, located at Provo Canyon near Orem, Utah, was completed in 1904 and is one of the oldest facilities in the western United States and is center piece of the Telluride Institute of Learning. The facility was the first corporate-sponsored school for engineering students. Now, CUWCD and the US Department of the Interior will be constructing a new hydroelectric power plant at the Olmsted site.

The project includes a new powerhouse, two new Compact units, replacing of the four existing penstocks with a single buried penstock, and construction of a new power transmission line. Operating under a net head of 102 m, the new horizontal Francis turbine units will have a nominal output of 8 MW and 3.2 MW. All works will be executed whilst preserving the existing historic powerhouse. The engineering firm, CH2M Hill, will undertake the powerhouse design.

The project is scheduled to be finalized at the beginning of 2018.
TECHNICAL DATA  

Output
1 × 8 MW
1 × 32 MW
Head
102.5m
Speed
514 / 720rpm
Runner diameter
737 / 1,109 mm