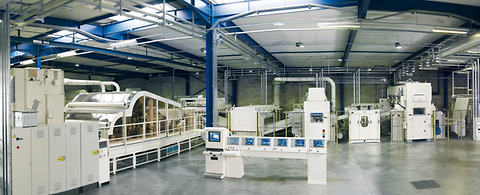 eXcelle cards for direct lines
Perfect evenness in feeding
ANDRITZ Nonwoven has developed card feeders like the Thibeau Chute Feed (TCF) associated with the Thibeau Metering Silo (TMS) to guarantee the permanent feeding of the fibers up to 90 mm. Both machines participate to the final opening for the constant fiber density infeed to the card. The best option of regulation is given by the pneumatic technology used inside both machines. The number, type, and width of each piece of equipment are adapted to the respective production of the card.
The Thibeau Chute Feeds can be equipped with batt shaping and profiling on top and bottom. An optional device is also available for air dust removal when processing certain types of fiber.
All cards for direct lines can be equipped with Servo-X infeed auto levelers with X-ray measurement.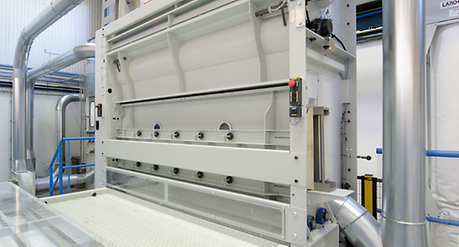 Cards designed for high production levels
eXcelle cards for direct lines are available in working widths of up to 5.1 m with different delivery configurations, thus offering best solutions for the producers' requirements in terms of throughput and product characteristics.
The eXcelle cards supplied can be fitted with one, two, or three doffers (VarioWeb). The webs are transferred from the card with solid or mesh aprons positioned either horizontally or vertically.
A revolutionary concept within the ANDRITZ eXcelle range is the IsoWeb TT card. It provides very good web uniformity and a low MD:CD ratio at high speed. This card is perfectly designed to match the expectations of wipes producers. In order to maintain the web characteristics, the web is transferred on air suction belts.
The state-of-the-art design with quick and easy accessibility for maintenance and service is user-friendly and very productive.