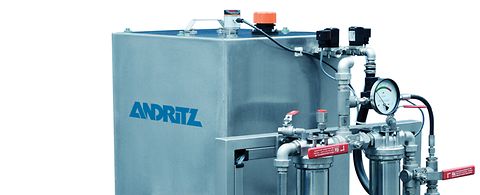 High-pressure pump system
ANDRITZ pump systems supply water at accurate pressure and flow volume for tail cutters and edge trim units.
ANDRITZ pump systems provide a constant water pressure and sufficient flow for best edge trimming and tail cutting. Two systems are available for paper and pulp applications. Our pump systems comprise a storage tank with level control, a double changeover filter unit and a redundant pump system. The flow rate and pressure can be adjusted to the customer's individual requirements.
Technical details
Made of stainless steel AISI 316
Weight 400 kg
Pumping capacity for
paper applications 1.8–10.3 l/min
Operating pressure up to 40 bar