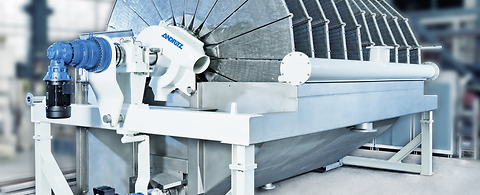 STARDISC vacuum disc filters
Filtration unlimited
STARDISC unites two vacuum disc filter designs that have made a name for themselves in different industries and many applications. Together, these popular disc filters allow you to cover the widest possible range of applications in vacuum disc filtration. Thanks to its modular filter design with different diameters and a variable number of discs, the STARDISC product family offers you an unrivaled level of flexibility: It can be tailored to meet your specific process needs and provides solutions for a variety of industries, ranging from the mining and minerals to the chemical and environmental industries.


Mining & Minerals
Alumina, potassium, non-ferrous ores, coal, iron ore


Processing parameters
Continuous vacuum filtration
Filter area: 42-252 m²

Average particle size: 1-800 μm
Excellent solids recovery
Your benefits
Tailor-made solutions to fit your process requirements
Highest specific throughput while maintaining a small footprint
Individual filtrate discharges for the cake building and cake drying zones

Fast and easy filter cloth replacement
Robust design
Quick mounting of filter cells and two-part control discs for minimized maintenance effort
Flexible design
Smallest footprint
In general, disc filters are the most space-saving solutions in separation. In order to take you to the next level, the STARDISC vacuum disc filters have been engineered to achieve the desired throughput with the smallest possible footprint.
Greatest filter variety
With our modular system, you are able to obtain the filter area best suited for your capacity requirements: You can choose from different diameters and adapt the number of discs used to vary the filter area between 42 and 252 m².
Filter discs in different sizes
Ultra-thin steel filter segments (also in stainless steel) minimize the required system volume. 20 or 30 filter cells reduce the specific volume and enlarge the cake building zone (less dead zones).
Trough options for optimum slurry handling
A common trough with an agitator for highest solids densities as well as a fluid-optimized, self-agitating single trough are at your disposal.
Piping for reliable throughput
Filtrate pipes handle discharge of the filtrate. Depending on the product, two different piping options are available: common piping and individual piping.
Proven technologies
Controlled suspension feeding
The suspension is fed continuously into the trough and flows in the same direction as the rotating filter discs. Each filter disc is divided into filter segments. They rotate at 30-360rph, and approximately 40-52% of the surface area submerges into the suspension. The feed level in the trough is kept constant by weir plate or level regulation.
Reliable cake formation
A vacuum is produced in the segment-shaped filter cells, which are covered with a filter bag. The liquid filters through the filter cloth, while the solid matter forms a filter cake of uniform thickness on the filter cloth and emerges with the disc from the trough.
Efficient demoisturing and cake discharge
As the disc filter rotates, the cake is demoistured by removing the liquid and discharged from the cloth at the end of this zone by means of compressed air (blow-back). The cake is discharged into the chute and further processed.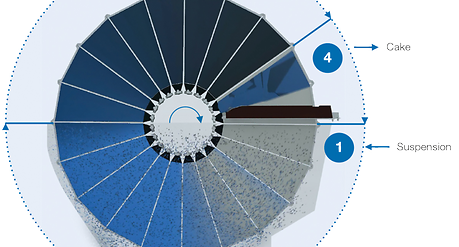 Reliable operation
Efficient filter cloth cleaning
The specially designed filter cloth washing device maintains the quality of the weave at a constant, high level. The cleaning process can also be carried out in continuous mode during operation and extends the lifetime of the cloth to the maximum possible.
Maximum handling comfort
The STARDISC product family provides all essential factors for easy maintenance: Smart design, easy access to all relevant components and the process area of the filter, quick removal of essential parts that need maintenance at regular intervals, and minimized use of tools.
Easy filter segment service
Thanks to the intelligent quick-mounting system of the filter segments with bayonet fastening, the segments can be maintained and serviced easily with minimum effort. The system is designed in accordance with the highest standards, enabling operators to perform all necessary actions without additional support.

STARDISC vacuum disc filter technical data
Design: Filter cells with rod fastening
Filter type
Filter area
[m²]

Discs 
per unit

Cells
per disc

Disc
diameter
[m]

A
[m]

B
[m]

C
[m]

Weight 
empty
[t]

Trough
volume
[m³]

Drive
Filter
[kW]

Drive 
Agitator
[kW]

STARDISC 60/5
60
5
20
3
4.1
4
3.55
10.6
4.8
4
4
STARDISC 72/6
72
6
20
3
5
4
3.55
12.4
5.7
4
4
STARDISC 96/8
96
8
20
3
5.9
4
3.55
15
7.6
4
4
STARDISC 120/10
120
10
20
3
6.8
4
3.55
17.6
9.5
4
4
Design: Filter cells with bayonet fastening
Filter type
Filter area
[m2]

Discs 
per unit

Cells
per disc

Disc
diameter
[m]

A
[m]

B
[m]

C
[m]

Weight 
empty
[t]

Trough
volume
[m3]

Drive
Filter
[kW]

Drive 
Agitator
[kW]

STARDISC 120/10
120
10
20
3
7.3
3.6
3.55
15.9
8.7
7.5
11
STARDISC 141/8
141
8
20
3.7
6.4
4.3
4.25
17.6
7.6
7.5
11
STARDISC 176/10
176
10
20
3.7
7.3
4.3
4.25
20.7
9.5
7.5
11
STARDISC 212/12
212
12
20
3.7
8.3
4.3
4.25
24.3
11.4
11
15
STARDISC 247/14
247
14
20
3.7
9.2
4.3
4.25
29
13.3
18
15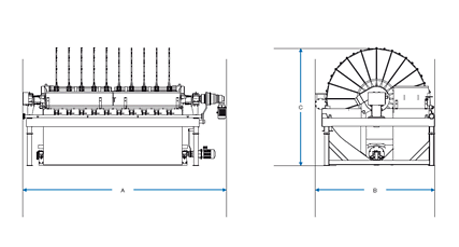 STARDISC vacuum disc filter XL technical data
Design: Filter cells with bayonet fastening
Filter type
Filter area
[m2]

Discs 
per unit

Cells
per disc

Disc
diameter
[m]

A
[m]

B
[m]

C
[m]

Weight 
empty
[t]

Trough
volume
[m³]

Drive
Filter
[kW]

Drive 
Agitator
[kW]

STARDISC XL 42/1
42
1
30
5.6
2.6
6.2
5.8
9
2.25
7.5
-
STARDISC XL 84/2
84
2
30
5.6
3.4
6.2
5.8
15
4.50
11.0
-
STARDISC XL 126/3
126
3
30
5.6
4.2
6.2
5.8
20
6.75
15.0
-
STARDISC XL 168/4
168
4
30
5.6
6.5
6.2
5.8
25
9.00
18.5
-
STARDISC XL 252/6
252
6
30
5.6
7.5
6.2
5.8
36
13.50
22.0
-
All technical data are approximate and subject to change without notice.