Girapac screen

---
Rotating drum screen with screw compactor
The Girapac is an enclosed, compact, and stand-alone unit, mainly for full pre-treatment of wastewater entering municipal and industrial WWTPs. This type of rotating drum screen has three main functions: solid/liquid separation, compacting, and bagging of waste.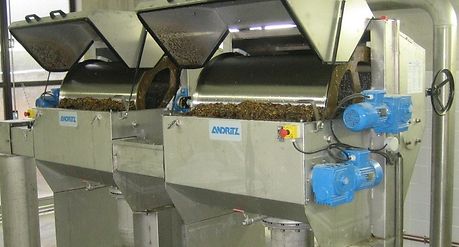 Benefits
Used for pre-treatment or to relieve the pre-treatment effort (capacity to screen and good efficiency in sand and grease removal)
Fully enclosed, stand-alone unit
Reduced investment because no concrete channels are needed, only piping
Easy installation (just connect up the pipes and switch on)
Efficient washing system
Very simple maintenance as there are very few moving parts (rotation only), easy access through front and rear cover (direct access to main parts)
Special design of the wedge wire drum to prevent any risk of the wire being detached from it and damaging the drum (longer drum service life)
Compacting to reduce cost of waste transportation
Operating principle
The effluent is fed to a distribution tank before passing over the upper part of the filter drum. The effluent flows through the filter screen, and any waste particles larger than the mesh are deposited on the drum and carried away towards the discharge zone. The particles removed come into contact with the scraper and drop into the screw compactor.
The water drains through the lower part of the drum, thus ensuring self-cleaning of the filter screen by eliminating the last remaining im-purities. An internal washing ramp is used to finish drum cleaning. The waste, which is conveyed by a shaftless screw towards a compacting zone, is retained in the strainer thanks to a check valve. The pressure exerted by the valve, which is fitted with springs, allows the compacting action to be controlled: The compacted waste, which is pushed through the valve by the screw, drops into a plastic bagging unit.
Filtrates generated in the compacting zone are brought to the drum filtrates tank.
The standard unit includes an integrated overflow with alarm and filtrate sample collector.
The screw compactor
The Girapac is equipped with a screw compactor, comprising of:
a stainless steel trough lined with a PEHD wear plate.
a shaftless screw in high-strength steel.
a compacting chamber with a removable strainer in stainless steel equip¬ped as standard, with a washing zone (easy maintenance), a compacting flap, and a cover with two fasteners that can be locked with a padlock. This chamber is used to drain and reduce the volume of the waste.
a stainless steel adapter to hold long PVC plastic bags (70m).
Applications


Environment
Municipal wastewater (pre-treatment)
Process water recycling
Slaughterhouse wastes

Food
Fish processing industry
Animal feed
Beverages (wine, fruit juices, beer)
Specifications
Model

Inner diameter

Lenght

Drum

Screw

Standard mesh
0.75 mm (munic.)

GP 500

626.3

507

0.37

0.75

45

GP 1000

626.3

1007

0.37

0.75

90

GP 1500

626.3

1507

0.37

0.75

135

GP 2000

626.3

2007

0.55

0.75

180

GP 2500

626.3

2507

0.55

0.75

225
Where does the Girapac fit into your process?