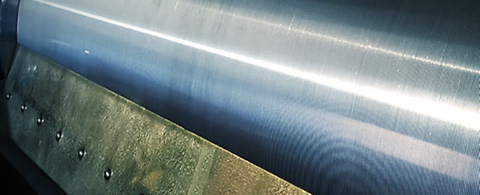 Girapac and Girasieve rotating drum screens, enclosed, compact, and stand-alone units for wastewater pre-treatment
ANDRITZ rotating drums – Girapac and Girasieve - are enclosed, compact, and stand-alone units, mainly for full pre-treatment of wastewater entering municipal and industrial WWTPs. This type of rotating drum screen provides high solid/ liquid separation, as well as sieving, desanding, degreasing, and additionally, Girapac allows compacting and bagging of waste in one unit.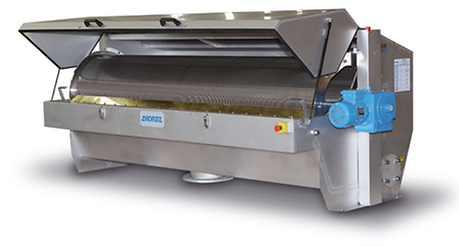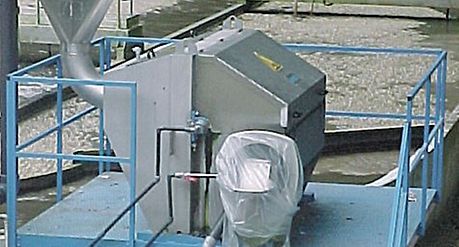 Features and benefits
Used for pre-treatment or to relieve the pre-treatment effort (capacity to screen and good efficiency in sand and grease removal)
Fully enclosed, stand-alone unit
Easy installation (just connect up the pipes and switch on)
Efficient washing system
Very simple maintenance as there are very few moving parts (rotation only), easy access through front and rear cover (direct access to main parts)
Special design of the wedge wire drum to prevent any risk of the wire being detached from it and damaging the drum (longer drum service life)
Plug and play: Low investment and easy installation (stand-alone unit, no concrete channels or modifications needed)

Conveying/compacting/bagging with Girapac rotating drum screen to reduce cost of waste transportation and combining all functions in a unique system

Upgrade to standard design, including sampling system for treated effluent, integrated bypass with alarm, feeding tank drainage point, and specific hatches and cover in order to check each side of the process within a few seconds instead of hatches and cover for checking each stage of the process
How to select the right rotating drum screen technology?
ANDRITZ rotating drum screens are easy to install (plug and play) and only require a small investment. The screening mesh available is between 0.25 and 2.5 mm. Extra fine screening mesh allows a much better final product (sludge and effluent) to be obtained from the WWTP (less nonbiodegradable waste), which is important in the event of an agricultural evaluation of the sludge and reject standards for effluent.
Capacity
Rotating screen drums are ideal for small wastewater flows. The Girapac rotating drum screen can handle flows between 45 and 225 m3/hr, while Girasieve can manage flows from 25 to 980 m3/hr.
Effluent origin
Girapac rotating drum screen is used more in municipal wastewater applications. The distribution tank is smaller, and the shape is specifically designed to avoid sedimentation of sand and mineral components. This specific design reduces the capacity of the machine, but definitely provides greater efficiency in removal of mineral elements and keeps the degree of human intervention required to an absolute minimum. The fine screening mesh of 0.75 mm used in standard units coupled with the special tank and wash ramp designs provide high efficiency in waste removal, but also in removal of sand and grease.
Girasieve rotating drum screen is used more frequently in industrial applications. The design of the tank has no restrictions (as only a limited amount of screenings sediment from this kind of waste) and allows higher capacities to be treated. The conveyor/compactor system is not included in the standard design and can be delivered separately as an option if the characteristics of the product allow compacting with such technology.
The screw compactor
The Girapac rotating drum screen is equipped with a screw compactor, comprising of:
a stainless steel trough lined with a PEHD wear plate.
a shaftless screw in high-strength steel.
a compacting chamber with a removable strainer in stainless steel equip¬ped as standard, with a washing zone (easy maintenance), a compacting flap, and a cover with two fasteners that can be locked with a padlock. This chamber is used to drain and reduce the volume of the waste.
a stainless steel adapter to hold long PVC plastic bags (70m).
Applications


Environment
Municipal wastewater (pre-treatment)
Process water recycling
Slaughterhouse wastes

Food
Fish processing industry
Animal feed
Beverages (wine, fruit juices, beer)
Specifications: GIRAPAC rotating drum screen
Model
Drum Ø
(mm)
Drum length
(mm)
Power (kW)
Drum
Power (kW)
Screw

Max flow


(m3/hr)

GP 500

630

500

0.37

0.75

45

GP 1000

630

1,000

0.37

0.75

90

GP 1500

630

1,500

0.37

0.75

135

GP 2000

630

2,000

0.55

0.75

180

GP 2500

630

2,500

0.55

0.75

225
Specifications: GIRASIEVE rotating drum screen
Model
Drum Ø
(mm)
Drum length
(mm)
Motor
(kW)
Flow*

(m3/hr)

GS 500




630

500

0.37

25-190

GS 1000

630

1,000

0.37

50-385

GS 1500
630




1,500

0.37

75-590

GS 2000

630

2,000

0.55

100-785

GS 2500

630

2,500

0.55

130-980