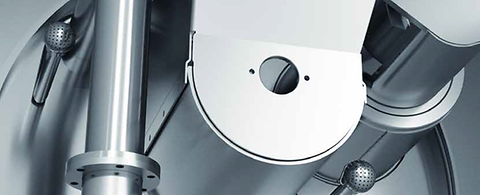 SmartCLEAN - CIP for horizontal peeler centrifuges
Up to 10% more machine availability thanks to fully automatic cleaning
Hygiene and safety always come first, especially in the chemicals and food industries. And while horizontal peeler centrifuges have offered reliable, high-capacity filtration up till now, cleaning of the complete process area inside the centrifuge has been synonymous with production downtime. 
The new SmartCLEAN cleaning-in-place solution for horizontal peeler centrifuges from ANDRITZ solves this problem with an easy-to-install upgrade kit including a software update for your control system. 
The result? Higher product quality without standstills for manual cleaning.

Your benefits
Less downtime increases machine availability by up to 10%
Significant cost savings of up to 50% compared to manual cleaning
Improved product quality
Avoids plugging with solids
Frequent product changes possible
Fast and cost-efficient installation – retrofit approach is 50% cheaper than ordinary rebuild
Application
Ideal for horizontal peeler centrifuges with no CIP or limited CIP elements, the SmartCLEAN cleaining-in-place solution can be used for any process, primarily in the food (FDA/GMP plants), chemical, and multi-purpose sectors. Easy to install with no reworking required, the CIP kit can be used on any make and model of horizontal peeler centrifuge.