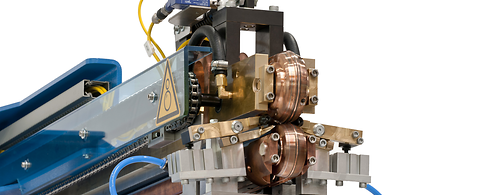 VSTW-1000/1270/1524
The manual stitch welder for longitudinal seams
The stitchwelder is an all-purpose machine, which is effective in any environment due to its simplicity and robustness.

Money
With the stitchwelder, a high-quality weld seam can be made without any adverse effect on the material to be welded. The electroplating remains undamaged, eliminating the need for expensive reworking, such as sealing or repainting. The weld seam is free of defects and meets all quality requirements in full.
Time
The recyclable copper-wire electrodes ensure that there is no need for time-consuming reworking of the work pieces. The use of copper wire has significantly reduced the amount of necessary maintenance on the weld rolls and therefore increased the lifespan of the rolls as well.
Material
Material thicknesses from 0.4 to 1.0 mm (0.016" to 0.04") for electro-plated, cold-rolled or stainless steel can be welded with the stitchwelder. The stitchwelder has an adjustable weld speed of 3 – 15 m/min (10 – 49 ft/min), creating a productive and efficient machine. The weld seams created are completely air-tight. The system is simple to tune to various product dimensions and part geometries. The VSTW is available with arm lengths of 1,000 mm, 1,270 mm, and 1,524 mm (40", 50", 60")
Benefits at a glance
Robust and simple design
Easy handling
Continuous current welding or roll spot welding
Cold-rolled steel can be processed
Galvanized steel can be processed
Stainless steel can be processed
Over 2,000 sold machines world-wide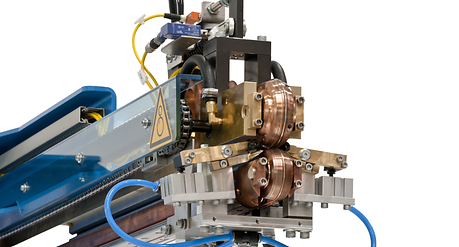 Technical Data
Parameter
Value

Welding length

min. 75 mm | 3"
max. 1,000 mm / 1,270 mm / 1,524 mm | 40"/50"/60"

Welding diameter

min. 75 mm | 3"
max. 1,000 mm | 40"

Material thickness

0.4 – 1.0 mm | 0.016 – 0.04"

Overlap

6.0 mm (0.24") for 1,000, 8.0 mm (0.31") for 1,270 + 1,524

Copper wire

min. 2.0 mm | 0.078"
max. 5.0 mm | 0.196"

Weld speed

3 – 15 m/min | 10 – 49 ft/min
(adjustable)