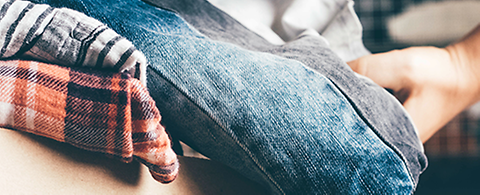 RECYCLE TEXTILES INTO SUCCESS
ANDRITZ TEXTILE RECYCLING TECHNOLOGIES
Textile recycling is a vital frontier for a more sustainable world. Clothing alone accounts for around 10 percent of greenhouse gas emissions from human activity, and much of the pre- and post-consumer waste generated by the textile industry ends up incinerated or in landfill.
Technology can change this: ANDRITZ is at the core of the movement to provide industrially and economically viable solutions that bring circularity to the world of natural and synthetic fibers.
There is no single, catch-all route to textile recycling. ANDRITZ has a diversity of solutions and cooperating partners covering the value chain from recovery of fiber to production of new yarn.
Best practice: Mechanical recycling line at Novafiber
ANDRITZ focuses on attractive and feasible recycling solutions for pre- and post-consumer textile waste:
Find out more about our recycling solutions
Cooperation partners
In 2020 Infinited Fiber Company and ANDRITZ signed a cooperation agreement to develop the process and equipment solutions for Infinited Fiber Company's textile fiber regeneration technology. The technology can turn any cellulose-rich raw material, including discarded textiles, used cardboard or rice/wheat straw, into Infinna™ cellulose carbamate fibers. 
In 2021, the US recycling technology innovator CIRC and ANDRITZ signed a cooperation agreement to bundle each party's expertise in the field of recycling of polycotton and to upscale CIRC's recycling technology for commercial use.
Comprehensive testing and R&D
The ART Center (ANDRITZ Recycling Technology Center) in St. Michael, Austria, and ANDRITZ Laroche in France offer complementary recycling trials with a variety of raw materials on state-of-the-art machinery at industrial scale. The recycling pilot line at ANDRITZ Laroche premises is designed for mechanical recycling.
Check out our latest SPECTRUM podcasts focusing on textile recycling!